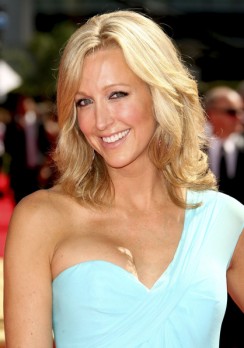 Pretty Lara Spencer, the lifestyle anchor for ABC's Good Morning America, hosts a "behind the scenes special" Shark Tank on FRIDAY, MAY 2 (8-9pm, ET) followed by episode 526. The behind the scenes special, entitled "Swimming With Sharks,"  promises insights into the show not seen by most fans.
The format is unknown, but Spencer is listed as the "anchor," so it will probably be a news-type show. What IS known is fans have been clamoring for this type of material about their favorite reality TV show.
Interviews with all six "full time" Sharks will air as they discuss the deals they let get away, what happens after the cameras stop with a business they invest in, and what they think of their fellow Sharks.
Entrepreneurs featured on the Swimming With Sharks Special include owners of Lollacup, Mark and Hanna Lim; Rick and Melissa Hinnant, owners of Grace & Lace; Al "Bubba" Baker, who invented Bubba's Boneless Ribs; Lani Lazzaro of Simple Sugars; and Johnny Georges, inventor of  the Tree-T-Pee. We'll also discover the biggest Shark Tank success to date: a company that did over $15 million in sales since appearing.
Hopefully, we'll get a glimpse of the taping process, which many entrepreneurs say is crazy; the Sharks all ask questions at the same time in rapid-fire succession.
Swimming with Sharks Bloopers?
Ever since Daymond made this funny video, fans have been asking for a "blooper" segment from ABC. Hopefully the Swimming with Sharks special includes some moments from the lighter side of the Tank. Other fun topics might be a look at businesses that taped and didn't make it on air.
Lara Spencer
The 45 year-old, married mother of two got her start in TV fresh out of college when she was an NBC page. Her brains, work ethic, and spectacular good looks landed her a series of gigs as a news woman with a variety of network affiliates. She hosted The Insider for 7 years and Antiques Roadshow for two years. She also produced It's Worth What and a couple of HGTV specials. Her first book, I Brake for Yard Sales, about decorating on a budget with "yard sale finds" was published in 2012. She also hosted the Miss America pageant – broadcast on ABC – last fall.
Whatever is in store in the Swimming with Sharks special episode, it's sure to be an entertaining show!