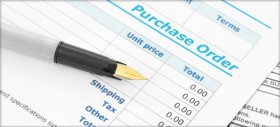 This week we asked Dan Casey, our finance expert, more questions about purchase order financing, or POF. Since the Sharks have mentioned this financing tool several times this season, we want to make sure you fully understand it. It's a powerful tool that can help take your business to the next level…maybe you'll even swim with the Sharks.
What is purchase order financing (POF)?
Let's use our favorite show, The Shark Tank, to explain this product. There are two main categories of business capital: equity and debt. Shark Tank businesses going into the Tank will be giving up equity in their company to secure funding. That means they will share profits with their investor as the business grows and will no longer have full control. With purchase order financing, business owners get an upfront advance prior to delivering their product. This is considered a debt tool.
When you receive an unusually large purchase order, you can use it as collateral for a loan. You can receive up to 100% of the cost to manufacture and ship your product. If the confirmed purchase order is from a credit worthy buyer, it only takes a week or two for approval. The risk for lenders is high, however, so the interest rates reflect the risk of the deal. Make sure you have healthy margins to ensure you still have profit.
Business scenarios when POF can help
Your company is new so you don't have much credit history
Your company is in turnaround mode, but your credit history is poor
Your growth is outpacing capital
Your business has seasonal sales spikes that strain your cash flow
Suppliers or vendors do not offer credit
You have not been able to secure a bank loan in the past
If you don't have money to fill a big order, purchase order financing can be a great solution. It will help you establish a proven track record in order to transfer to a lower interest financing option.
How long do you have to repay a POF loan?
Typically a POF loan payment will be due within 45 days of delivering the order to your buyer. The exact time will depend on the terms and conditions of your contract.
What types of deals use POF?
There are 3 types of purchase orders that can qualify:
Finished products from a third-party vendor. Products are shipped directly to the buyer.
Products need light manufacturing or repackaging before shipping to the buyer. This requires extensive experience with the finishing work or it must be subcontracted to an experienced company.
Products require complete manufacturing before it can be sent to the buyer. This requires extensive experience with the finishing work or it must be subcontracted to an experienced company.
When isn't POF appropriate?
 Here are some scenarios when POF does NOT work:
Your company provides services, not goods
Buyer has the option to return unsold items
Buyer isn't credit worthy
Just like in the Shark Tank, be prepared to talk about your business, expertise and funding need. Don't exaggerate anything or it will discredit your company. Be able to answer and ask smart questions.
If you're an entrepreneur or small business owner and have a financial question for Dan, leave a comment.  He'll try and answer them in the coming weeks.
Dan Casey, founder and CEO of purchaseorderfinancing.com, believes every business has a story to tell. He's been listening and helping small businesses grow exponentially since 2002 using a creative combination of finance tools. He's been featured in publications including Entrepreneur Magazine, Entrepreneur Online, Small Business Trends Online, The Washington Post, Crain's Chicago Business & American Express Open Forum. 

Visit www.purchaseorderfinancing.com and be sure to mention Shark Tank Blog to get a free subscription to Fast Company or Entrepreneur magazine.*
*Must qualify for financing to receive special offer exclusively for SharkTankBlog.com readers.