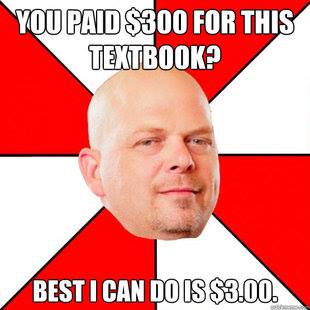 Two young entrepreneurs, Casey Gandham and Mike Shannon, have a solution for high textbook costs with their textbook rental service called PackBack. Textbooks cost BIG money: the average college student spends over $1,000 on text books and, when they go to sell them back at the end of the semester, they get pennies on the dollar.
What Pack Back does is rent books to students electronically for $5 a day. You may only need that $300 textbook 5-10 days out of the entire semester. If you use PackBack's textbook rental platform, you'd spend $50 maximum for the use of the book during the semester – that's $250 extra bucks for "other expenses." It's a big savings and, since you rent the book electronically, you don't have to lug around a bulky textbook. If you find yourself in a position where it makes economic sense to buy the book, PackBack applies all your rental fees towards the purchase price – you simply can't lose. They still sell textbooks the old fashioned way, too.
PackBack set up their textbook rental business the right way. It's not a re-sale platform, they deal directly with the textbook publishers. Electronic delivery eliminates the re-sale market, too (which doesn't benefit publishers. Textbook rental and electronic delivery are the wave of the future, PackBack is an early entrant to the space, making them an attractive company.
My Take on Textbook Rental
Textbook prices are completely insane! With two kids and a wife in college, I KNOW how much they cost. My oldest spent a little over $1200 last semester on books! One of my wife's textbooks cost $225 – when she went to sell it back, they offered her five bucks; she kept the book.
When I was in college, at the end of every semester, my buddies and I went to the UMASS bookstore, traded in our books, then went out to a local establishment and bought pitchers until the money ran out. Someone would always comment that they wished what they spent on the books at the beginning of the semester was what they could spend on beer at the end. It's a common tale of woe that's been told on college campuses for decades.
I totally get this concept. I see more and more textbooks going electronic every semester. By the time my nine-year-old gets to college, students will download all their books. Electronic books are the future of publishing. PackBack has a "pay as you read" type of delivery mechanism that makes a lot of sense, particulalrly to college students who are watching their budget. Right after I found this company, I emailed the link to my two college kids. When I checked out the PackBack site, I found all four of my wife's current semester textbooks, but we already bought them ($335 for 4 books and that's for one class). We'll definitely be using this textbook rental service in the fall.
Do Sharks Pack Up an Investment?
This is a very interesting business from an angel investor's standpoint. PackBack also sells textbooks with an "online price comparison" sales model. They have a re-sale marketplace, too. The big play here is the electronic textbook rental business, otherwise they're JATS: just another textbook site. If one or more of the Sharks likes the concept, we could see an investment. The guys need to value their business properly and look at it from a development standpoint. The business is in its infancy and has huge growth potential, a Shark will want a big bite.
Barbara won't be in on this; Daymond is out too. My guess is Robert, Mr. Wonderful, and Mark are the interested players, they're the tech guys. Since this episode was announced, PackBack did some website re-vamping and they now have the textbook rental platform in Beta. They're also offering a free rental if your textbook isn't currently in their library. This looks like a business that got a cash infusion. The question is: did a Shark or some other investor kick in? I'm smelling blood on this one, I think they get a deal.