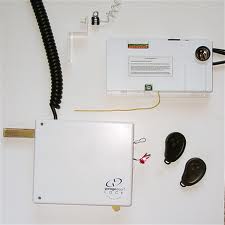 Entrepreneur Bryan White pitches ELockSys, his garage door lock company on March 21. White created a push button deadbolt, much like a remote garage door opener, back in 1999. He patented the product in 2002 and he's been selling them since.
The product makes a lot of sense. There were no real solutions for locking a garage door with a remote, until ELockSys came along. There are hundreds of millions of mechanically operated garage doors and they're easy to break in to. Without a locking mechanism, a savvy thief can quickly gain access to just about any garage, unless there's an ELockSys deadbolt blocking the way.
My Take on ELockSys
This is a solid product. There is tremendous need for these deadbolt locks. If I had a garage, I'd want one. Mr White has sold quite a few of his garage door locks over the years. Depending on who you believe, the company does anywhere from $1 million to $5 million in annual sales. This aint no start-up!
One thing makes me wonder why White is in the Shark Tank with this product: the ELockSys garage door opener sells at Sears! Why would someone who is able to get a product into Sears (and other major retailers) need the Sharks? The company website disappeared literally while I was writing this post. It came back up, in revamped form the next day. Is this the sign of a Shark investment or just good planning on the part of Mr. White?
The product itself is a good one. Not many people lock their garage with a deadbolt, which can make things very easy for thieves. Any security conscious person would want this product. At $250-$300, it's a fractional extra expense for someone installing a new electronic garage door. I currently don't have a garage my self, but whenever I get one, I'd spring for one of these for sure.
Do Sharks Lock Down an Investment?
Without knowing anything else about this business, I don't think the Sharks bite. This has all the makings of a train wreck. The Sharks will ferret out the large sales numbers and think White is there for the publicity. If that doesn't happen, he'll get the "hapless inventor" edit and he'll be portrayed as a guy with a great invention and no business acumen. The Sharks will, if they bid at all, offer a lousy valuation and when he doesn't take it, they'll ridicule him.
Whichever scenario occurs, it's NO DEAL in the Tank for ELockSys.