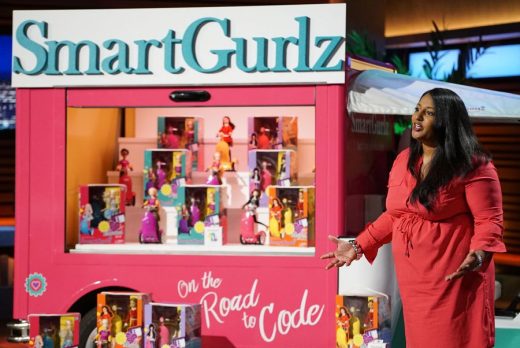 Sharmi Albrechtsen wants a Shark to invest in SmartGurlz, her robot riding dolls that teach girls to code. She created the toy to get her own daughters interested in STEM (Science, Technology, Engineering and Math). Girls, as a result of gender bias in toy marketing and many other cultural factors, are far less likely to become engineers, computer programmers and other STEM related professionals. Albrechtsen recognized this bias and built a toy for girls that girls want to play with.
Like it or not, girls like playing with dolls. Many STEM toys, while supposedly "gender neutral," are still more skewed toward the male mindset: trucks, cars,"masculine" robots, etc. Ms. Albrechtsen took the idea of a robotic vehicle and turned it into a brightly colored scooter with a doll riding on top.
Kids (girls) program the scooter through an app on a phone or tablet using basic coding skill sets in the Smartgurlz program. Kids can set up "missions," retrieve objects, and even map out a course through the app. The toy engages girls (and a lot of their brothers too if you believe the press) and hopefully gets them more interested in STEM as a result.
There are four Smartgurlz characters: Jen – a mechanical engineer, Jun – a "chemistry star," Zara – a "tech wizard," and Maria – a "math genius." Each girl drives a "Siggy" which is the programmable scooter the dolls ride. A scooter and doll runs $79.99. Sharmi likely wants exposure for the toys and a strong retail presence in appropriate toy retailers bot online and off.
Will a Shark get with the program and back this STEM toy?
SmartGurlz Company Information
Video

Posts About SmartGurlz on Shark Tank Blog
SmartGurlz Shark Tank Recap
Sharmi will pitch the panel of five Sharks on the business and its prospects for growth. She'll need to convince Mark Cuban, Daymond John, Sir Richard Branson, Lori Grenier, and Robert Herjavec that the company is worthy of a Shark investment. A good business plan, good financials, and sales data will impress the Sharks, but she'll need to show them SHE is capable of running the company to "Shark standards." A full pitch re-cap on SmartGurlz will be available on Shark Tank Blog once this episode airs.
SmartGurlz Shark Tank Update
The Shark Tank Blog constantly provides updates and follow-ups about entrepreneurs who have appeared on the Shark Tank TV show. Once an episode has aired, we monitor the progress of the businesses featured, whether they receive funding or not and report on their progress. The Shark Tank Blog will follow-up on SmartGurlz and Sharmi Albrechtsen as more details become available.