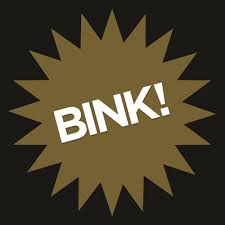 Alex Milewski and Sherisse Hawkins want to Bink your book with their new technology for eBooks. Their business, Beneath the Ink, uses technology to provide "enhanced content" while reading a book in electronic formats. A bink is like a link within an eBook that leads readers to additional, supporting content – whether it's a video, map, image or footnote. That's what a bink is: a footnote on steroids.
Picture this: you are reading a book on a Kindle or other tablet and you see what looks like a link on a website (that's the bink), you click it and you are taken to a video interview with the author about the setting. That's it in a nutshell. eBook publishers pay for and utilize the technology in their written work, readers decide whether to activate the feature or not.
Milewski and Hawkins initially called their business "Cypher This," but it morphed into Beneath the Ink prior to their scheduled appearance in Shark Tank episode 627. The pair has other investors of sorts – they landed a $300,000 funding round from Colorado University's New Venture Challenge and over $200,000 from the Colorado Office of Economic Development and International Trade as part of the agency's Advanced Industry Accelerator Grant Program.
So far, binks are popular among authors and publishers; organizations like the National Geographic are early adopters, too. In addition to Beneath the Ink's technology, they're developing their own digital publishing technology. The company is growing fast and probably wants some "Shark Tank Effect" injected into their growth strategy.
My Take on The Bink
I spend a lot of time in front of a computer screen, so when I read a book, it usually has pages. I just like the feel of a real book. I have read books on my wife's Kindle and I can see myself transitioning into getting my own, especially when I travel. Some people criticize the binks as a distraction, but I don't think they'd bother me. I am "link blind." Since I do so much reading and research online, I've grown blind to the "distraction" of a link or links in a block of text.
I would probably use the bink feature in some books because I am the type of person who loves reading footnotes – especially in non-fiction works. If it became too distracting, I'd shut the feature off. The trend that bothers me is publishers are exploring ways to promote other books in the Beneath the Ink interface. I'd like to use binks for footnotes, but I'd probably get turned off by in-book commercials.
The feature is embedded in an eBook by the author or publisher, so it's not a matter of whether I'd buy this product, it's whether I'd activate the feature. That will ultimately be Beneath the Ink's key to success: whether authors and publishers think the added value of Beneath the Ink is reaching a wide enough audience. In text books and non-fiction, I think it's a valuable service; my internal jury is out on whether I'd enjoy it in fiction books.
Will Sharks go Beneath the Bink?
If the Sharks feel they can make money with this business, they'll have interest. It's unclear exactly how much it costs to embed the technology into an eBook. My guess is the author or publisher purchases a software license to put it "in" a book. Since it's software, there's no shipping or manufacturing. While there are expenses to producing software, the challenges of inventory and seeking physical shelf space are eliminated.
I can't see Barbara or Lori getting involved with this business – it simply doesn't fit their model. On the surface, Mark would be the best Shark for beneath the Ink, but Robert and Mr. Wonderful could bring some value to the table. The real value of a Shark, beyond their cash, is introductions to decision makers at publishing houses and eBook platform creators. Mr. Wonderful has publishing connections due to his work in educational software. Robert and Mark's tech savvy could bring value to Beneath the Ink as well.
Whether the bink becomes a ubiquitous presence in eBooks in the future remains to be seen, but the inroads they've made with publishers may be enough bait to land a Shark.