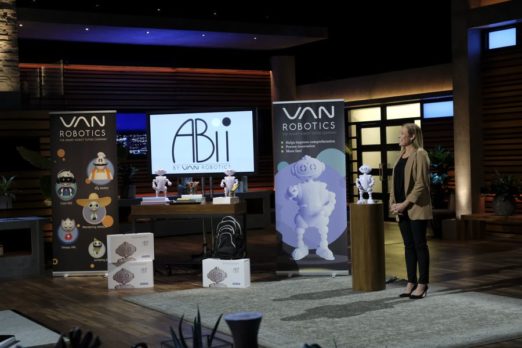 Laura Boccanfuso seeks an investor for Abii, her robot that tutors elementary students in math, in Shark Tank episode 1114. Laura started the company in 2016 to design and build robots that helped kids with learning disabilities. She has a PhD in engineering and computer science with a focus on socially assistive robots.
Abii was originally designed for kids with special learning needs, but it soon became clear it could help any student with math. The robot combines a particular math curriculum with artificial intelligence; it can actually tell when a child isn't paying attention and redirect the student. It actually stores and processes information from every student it interacts with and uses the data to "teach" in a style where the most kids are having success.
Laura has tested Abii in three sets of tests in several dozen schools with 700 students. Students using the robot saw a 34% improvement in test scores after working with Abii. Teachers can use it to help kids who are falling behind to play "catch up" without devoting a disproportionate amount of classroom time. The robot stands on the student's desk and interactively engages in math education with its accompanying, wifi enabled app.
Sales
700 is also the number of robots she's sold since the company opened. The first round of product was sold to schools and after school programs for use by an unlimited amount of students for $999. A home version that can be used by up to three kids is now available for $599. She was hoping to sell another 3000 units in 2020, but we all see how this year is going so far. The parent company that makes Abii, Van Robotics, has raised $1 million in venture capital and grants so far and now Laura wants a Shark to help get to the next level.
Company Information
Video

Posts about Abii on Shark Tank Blog
Abii Shark Tank Recap
Laura enters seeking $300,000 for 10% of her business. She explains her business and demos the robot. While the Sharks are intrigued, they do have concerns. Laura targets schools to buy her products. Several Sharks have tried breaking into the education market and find the barriers to be cumbersome. They also fear that it's too early and ultimately all the Sharks go out.
Abii Shark Tank Update
The Shark Tank Blog constantly provides updates and follow-ups about entrepreneurs who have appeared on the Shark Tank TV show. On June 11, 2020 the company launched a brand new website. While still targeting schools, the new website is more targeted to parents. What with the Covid-19 pandemic occurring when this episode aired, perhaps their sales went up with parents homeschooling their kids. The company won Time Magazine's Best Invention of 2020.
As of June, 2021, the company is expanding and has annual revenue of $4 million. They also raised $328,600
on StartEngine. According to that site, Abii completed "a pilot with 4 schools, reporting that 67% of students have improved by 34% after only 3 sessions with the robot. Following this success, we received a Department of Education grant to put our robots in 16 school districts serving 1000+ students." As of March, 2022, they hay a new robot in development called MARii. It's a musical assistant robot that teaches older adults with mild cognitive impairment how to play the piano. The company now has robots in 30 states and England. Annual revenue is around $5 million.