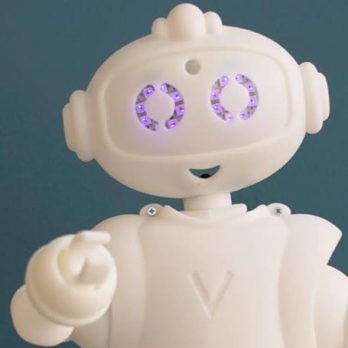 Van Robotics founder Laura Boccanfuso knows the role technology is increasingly taking in education. She also knows teachers and parents struggle with helping kids, especially slower learners, learn to be proficient in math. That's why her company created Abii, the robot tutor for elementary math education.
Abii is a desk top robot that teaches math and interacts with students.  It uses artificial intelligence, developed by Van Robotics, that delivers curriculum and senses a child's engagement. Abii can sense when a child is losing interest in a topic and switches gears during a lesson to keep the child engaged. For instance, if a kid answers several problems in a row incorrectly, Abii will take a time out to do a little dance or play a game. Once the child's attention is more focused, the robot starts the lesson again.
Van Robotics created an app that goes along with Abii that allows the interaction to take place. Initially, the company had a series of trials in school systems with 700 students. It went so well, they're rolling out full production with a sales focus on schools and individuals. An Abii for schools can serve an unlimited amount of students. It learns different cues for attention fro each kid and applies it to its lesson plan. Robots for home use are programmed to interact with three kids.
The Future
Abii is a good tool for teachers who often have classes of 20 students or more. A child who's falling behind can have Abii deliver the curriculum at the kid's pace while the teacher keeps pace with the rest of the class. Home users can have Abii reinforce school lessons.
Van Robotics only offers robots that teach elementary school level math for now, but more advanced curriculum is surely in the works. Technology, as evidenced by the businesses in episode 1114, is becoming a bigger part of our lives every day. It's definitely becoming critical to delivering curriculum in schools, too. While robots may not replace actual teachers in the near future, they are sure to be a growing part of the curriculum delivery systems in the future. The question is, will a Shark want to swim with a robot.
My Take on Van Robotics
Abii looks like a toy, but it's a sophisticated piece of engineering that will have a real impact on education. As a licensed teacher (not math), I can see the benefit of having an "assistant" in the classroom, even if it's a robotic one. If it works half as good as Laura says it does, it will be a marvel.
Not only do I like the robot, I like Laura too. She's a great example for little girls who are interested in STEM related subjects. As the father of four daughters, I appreciate passionate, intelligent women who promote STEM education to our girls. I am in.
Will Sharks Like Abii?
My guess is they will. What Laura and Van Robotics have designed is just short of miraculous. I am willing to bet elementary students respond to this tool very enthusiastically. The one drawback is kids might pretend to "not get it," just to have their robot time.
Like the other AI and tech businesses in this episode, Van comes in with venture capital partners. They've raised a little over $1 million in grants and VC money. This may or may not hurt their valuation in the Sharks' eyes. The other objection Laura will face is the focus on sales to schools. Selling to county and municipal school boards is a long process and it will require A LOT of education.
Sometimes the Sharks don't want IN on complicated businesses. The only suitable Sharks for this company are Robert or Mark. They're tech savvy and could provide the proper resources. If Robert or Mark don't bid, I don't expect a deal, or at least one that closes down the road.