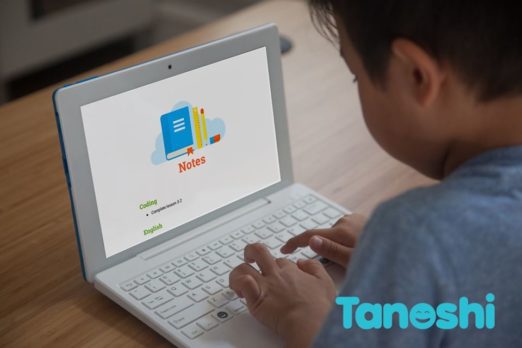 Tanoshi Computers wants to make fun, affordable computers for kids. The word Tanoshi means "fun" in Japanese and kids seem to embrace that. As for affordable, at $189 apiece with all the software kids need pre-installed, it is relatively affordable. The mission for Tanoshi Computers is that every kid has access to technology. With more and more school systems relying on technology and with the current, pandemic induced school at home programming, access to technology has never been more critical.
Tanoshi Computers built an Android based computer/tablet combo for the masses. The keyboard detaches when a kid wants to use a tablet. The computers fill a void in the market, too. There are a lot of "computers" for ages 0-4. They tend to be low tech introductions to technology that are more toy than tech. There were no computers for pre-teens and adolescents – just regular computers.
With Google's parental control Family Link app,Google docs and spread sheets and kid friendly coding apps pre installed, it's ready to go out of the box. Tanoshi, in business since 2015, has a slew of tech industry veterans working for it. Co-founders Lisa Love and Brad Johnston, along with company "minister of fun" Greg Smith, look to the Sharks in episode 1114 to help them grow the business. Will a Shark think this opportunity computes?
My Take on Tanoshi Computers
I was lucky as I never had to worry about accessibility to computers. My mother taught computer science to high school students before computers were common homes. We were the first family on the block with a computer in the 1970's: a Radio Shack TRS 80 with a cassette drive. Going forward from there, I have never NOT had a computer.
That said, I know of the technology gap in our nation. Kids from underprivileged communities simply do not have the access to more expensive technology. Tanoshi Computers seeks to bridge that gap with their product and for that I commend them. It's something that could make a difference. I am in.
Will Sharks Compute?
Tanoshi, like some other companies appearing on this episode, has outside investors. There's only $300,000 in venture money invested, but the valuation on that number is unknown. I have a feeling they are going to come in with a high valuation which almost always leads to no deal.
That said, it could be ripe for a royalty offer. Mr. Wonderful is famous for these kinds of offers and Lori has made quite a few this season as well. If the valuation is not too out of the ball park, Mark may bid, but I'd expect some kind of royalty offer or no offer at all.