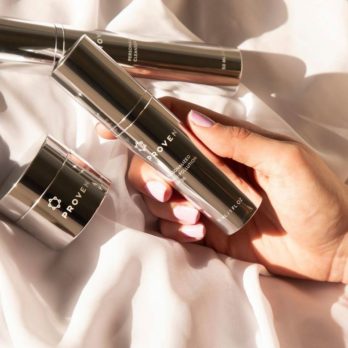 Proven Skincare founders Ming Zhao and Amy Yuan took a different approach when they founded their business. They didn't want to sell a one-size-fits-all skincare product, they wanted to customize their products to each customers' individual skincare needs. That' not an easy task, unless you have a huge database.
It turns out, they do. Yuan has a degree in computational physics and she developed a worldwide database called The Skin Genome Project. The database uses nearly nine million data points to evaluate skin type, products, testimonials, skincare ingredients and scientific journal articles. Proven Skincare utilizes all that data to customize products for their customers.
Before you can buy anything, you need to take a 47 question quiz. It asks about sleep habits, stress, skin type, problems you want solved and so much more. It compiles your answers and feeds them into their database which then spits out a custom formula especially for you. They recommend a cleanser, a day cream, and a night cream for each customer.
They started their business because Yuan has chronic dermatitis and Zhao was getting concerned about age lines. Like their customers, the two women had different needs and needed different solutions. By setting their business up to offer custom products, they eliminated the guesswork. Proven Skincare is the first company in the $140 billion global skincare market to offer such an individualized, data driven solution. Zhao, who pitches the business in Shark Tank episode 1114, hopes the Sharks see the value in the company's innovation.
My Take on Proven Skincare
I occasionally use a moisturizer when my skin gets dry. I'm partial to Nardo's Natural products since they're a local Florida company that was on Shark Tank. I don't really have a skincare regimen. My wife on the other hand has a lot of skin care products in her bathroom. She has moisturizers, eye cream, wrinkle cream – you name it. I am sure I will never fully comprehend the vastness of her "collection."
I decided to take the Proven Skincare quiz to see what they came up with. As I answered different questions, ingredients began appearing on the left side of my screen. When I was done, the website said they'd email me my recommended formulas. A few minutes later, I got an email with my recommendations. When I saw the price for the three products, I flipped. It was $185! While my wife may have spent enough money on skincare to settle the national debt of a small country, there was no way I was shelling out that kind of money.
That said, I know women who spent that kind of money in a heartbeat if it promises to make them look younger. I do admire the science and data crunching that goes into the business. It's not for me, but I'm sure plenty of women will buy in.
Will Sharks Think this is a Proven Concept?
I don't know if the Sharks will be as shocked as me on the pricing, but I'm sure they'll be impressed with the scientific and unique sales approach. The biggest problem Proven Skincare will have is other investors. There are 13 venture companies backing this business already; hard numbers have not been disclosed.
The risk for Zhao is the business may be too diluted for a Shark to see any real value. Anytime there's a company in the Tank with a lot of other investors, this is a problem. Oftentimes the entrepreneur will come in with what the Sharks think is an inflated value. Valuation aside, they can't move on their percentage ask because of the other investors. I think the Sharks will be impressed, but will ultimately take a pass.