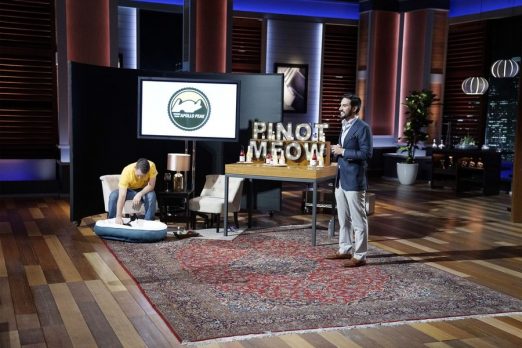 Brandon Zavala seeks a Shark to invest in Apollo Peak, his line of "wines" for cats and dogs. Zavala started the business in 2015 with the goal of creating a "safe and fun alternative to hard snacks" for our four-legged friends. The company took off with a lot of solid search engine optimization and social media buzz. The company got its name from Zavala's cat, Apollo, who disappeared for two years (presumably to learn wine making skills).
Apollo Peak isn't alcoholic, it's more like a tea for your pet. Ingredients include catnip and beet juice. With catchy names like "Pinot Meow" and "CharDOGnay," they have a flavor for every pet. Prices range from five bucks for a 1.8 ounce tasting bottle to sixteen bucks for a 12 ounce bottle.
The product is available on the company website, Amazon, and at dozens of mom and pop pet stores around the USA. Zavala likely wants a Shark to help him get into big box retail. Will a Shark think this business is the cat's meow?
Apollo Peak Shark Tank Recap
Brandon enters seeking $100,000 for 10% of his business. As he starts his pitch, his cat is ignoring the wine. Kevin calls him out on it and Robert calls it a gimmick. Brandon explains that pet beverages are a unique niche and tells the Sharks he did $192,000 in the past 3 months.
Kevin is concerned about the price, then Mark abruptly goes out. Lori quickly follows. Robert doesn't think it's a sustainable business – he's out. Kevin jumps in and offers $100,000 for 33.3%. Daymond then offers $100,000 for 25%. Brandon counters both offers at  15% and Kevin goes to 20%. Brandon agrees and they do the deal.
Apollo Peak Shark Tank Update
The Shark Tank Blog constantly provides updates and follow-ups about entrepreneurs who have appeared on the Shark Tank TV show. The deal with Kevin never closed. A year or so later, Brandon started making "dog wine" with a chicken broth base that's spiked with anise. He now sells plush toys and chew toys for dogs and cats.
As of July, 2022, the company is still in business with estimated earnings of $500,000-$1 million per year.
Posts About Apollo Peak on Shark Tank Blog
Apollo Peak Company Information
Video