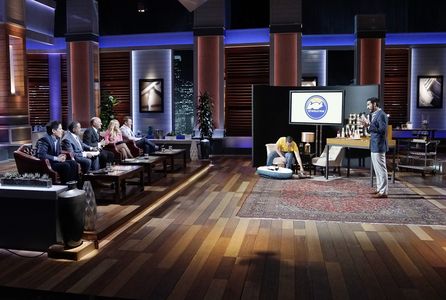 Former pet industry salesman Brandon Zavala created cat wine so he could share social moments with his cat, Apollo. Brandon loves his cat and his wine, so he created a whole line of different flavored cat wines (and dog wines too) so he could sip and relax with his feline friend. He named the business, Apollo Peak, as a tribute to Apollo who disappeared for nearly two years, then showed up one day. Apparently, the cat does come back – especially if there's wine waiting.
Just to be clear, Apollo Peak cat wine doesn't contain alcohol. The ingredients are primarily catnip and beet juice. If your kitty drinks the stuff, it will mellow him out a bit, but he's not going to start fights or bust up your home. Catnip makes cats excited when they smell it, but when ingested, it chills them out. Sounds more like cat weed than cat wine.
Brandon hopes the Sharks share his passion for cat wine when he pitches the business in episode 822. He's been selling the stuff since 2015 as a healthy alternative to "hard" pet snacks. At sixteen bucks for a 12 ounce bottle, it's more expensive than a lot of real wine!
My Take on Cat Wine
When I first heard about cat wine, I imagined drunken kitties vomiting in the litter box. Of course cats can't drink alcohol, so I knew there had to be a hook. Now I'm not a cat guy. I don't care for cats, but they seem to like me. A neighborhood cat adopted me. He comes for a visit every day (when the dog isn't out) and occasionally leaves me a mouse, bird, or squirrel by the side door. Maybe I ought to get him a bottle of wine to show my gratitude!
I don't think my dog would like the dog wine – unless it has bacon in it. This is probably not a product I'd buy, but I know a lot of kooky cat owners who'd get it for their pets. Sixteen dollars is a good chunk of change for a novelty, especially for a cat. For that reason, I'm out.
Will Sharks Sip This Wine Business?
Pet products walk a slippery slope in the Tank. Some get funded, but most don't. One thing is certain: this pitch will have the Sharks laughing. I can almost hear Kevin O'Leary invoking some sort of cat pun regarding the Confrérie des Chevaliers du Tastevin! Mr. Wonderful likes his wine, but he won't be a consumer of Pinot Meow or CharDOGnay.
Mark has interests in two wine businesses, Bon Affair and BoomBox Beverages. Those businesses veer off the "traditional wine" path, so he might consider if the deal is right and he likes Brandon. I really don't see Robert, Lori or Daymond making a play for this company. Ultimately, I think the idea is too new and too strange for the Sharks.