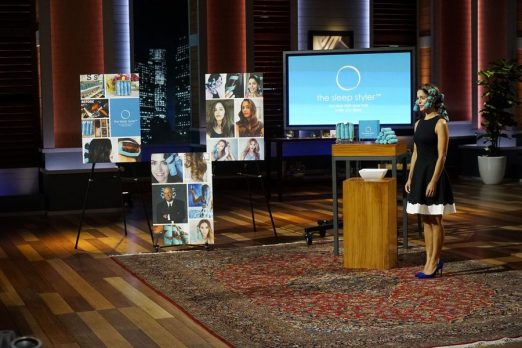 In a little over a year, Tara Brown of The SleepStyler took her idea from inception to production to sales. Most would assume she was solely focused on launching her new business. In fact, she was balancing a medical career, raising a family and learning a new industry concurrently. A modern take on sponge curlers, the Sharks were blown away by her go-to market strategy. A methodical approach shows investors how entrepreneurs approach and prioritize complex tasks, which is critical for running a successful business.
Learn the ropes
With a beauty product, aesthetics are key. Working with manufacturers Brown wanted to make sure she could speak their lingo. She enrolled in fashion school and learned about seam allowances and surge edges. By understanding different sewing techniques and specifications she was able to bring her exact product vision to life.
SleepStyler Benefits from Branding
The SleepStyler brand has everything you need for a new product. A modern sleek logo and name that features catchy alliteration and explains how you style your hair while you sleep. It's short, memorable and consumers quickly understand the end benefit of using this product.
Raise money and gauge interest
Brown's Kickstarter campaign raised its $10,000 goal in 12 hours. At 30 days, she closed the campaign raising 470% above the stated goal. The SleepStyler campaign provided critical seed money and demonstrated strong consumer interest.
Assess industry enthusiasm
When she attended CosmoProf, the world's largest beauty trade show, Brown was blown away by industry interest.  Amazon Launchpad, HSN, QVC and buyers from all over the world approached her, she waited to secure the advice of a Shark. She could have easily been caught up in the excitement and signed contracts that didn't offer the best terms. Showing restraint is important to potential investors.
At every stage, Brown showed she is an entrepreneur who makes smart calculated decisions. She developed a unique product that meets the high standards of The Queen of QVC, Lori Greiner. Together, they are going to BLOW IT OUT!
Guest poster Karen Groene of purchaseorderfinancing.com believes every business has a story to tell. We've been listening and helping small businesses grow exponentially since 2002 using a creative combination of finance tools. We've been featured in publications including Entrepreneur Magazine, Entrepreneur Online, Small Business Trends Online, The Washington Post, Crain's Chicago Business & American Express Open Forum.

Visit www.purchaseorderfinancing.com and be sure to mention Shark Tank Blog to get a free subscription to Fast Company or Entrepreneur magazine.*

*Must qualify for financing to receive special offer exclusively for SharkTankBlog.com readers.