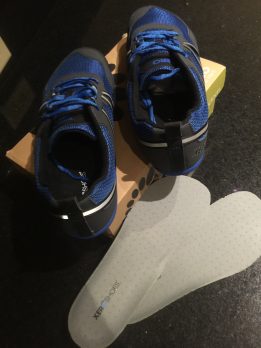 Stephen Sashen is at it again: XeroShoes just came out with the Ipari Prio, their running/training SNEAKER that utilizes the XeroShoes mantra of "feel the world." XeroShoes started as a little kit that let people create their own barefoot running sandals. They pitched the business in Shark Tank season four and, despite leaving without a deal, have grown exponentially since.
Their growth came from innovation. Each year, they come out with more products. When I received my first pair of XeroShoes, I loved them. The next pair Steve sent me, the Amuri Z Trek, was a much better product. I literally wear them every day.
Next was the Ipari Hana. This is a "dress' XeroShoe. It has the same barefoot feel as the others, but it looks like a "real" shoe. I wear mine out to dinner or whenever I have to dress up. I even wore them to a funeral recently!
New Product: Ipari Prio
When I got an email asking me to review the newest shoe from XeroShoes, I was pumped. I am barefoot as I write this and I spend a lot of time NOT wearing shoes at all. I like the feel of being barefoot, that's why I like Xeroshoes. Steve Sashen created the business because he wanted a product that gave him the feel of running barefoot. He claims he's the "fastest Jew over 50" in the entire world. I'm not going to compete with Steve in a race, but I still like his shoes.
The Ipari Prio looks like a sneaker, but feels like a XeroShoe. It has a similar design to the Hana, but the toe area is more roomy. There's  also an insole insert for a bit of extra padding. I strapped them on yesterday to give them a road test. No running races for me, but I had a lot of errands to run and I took a walk to the pier.
They did not disappoint! I got the same barefoot feel from the Ipari Prio sneakers as the other XeroShoe products I own. Like I said, I'm not running any races, but I can wear these to the YMCA or as a casual shoe when I don't want to wear sandals (or my Hanas). If you always wanted to try XeroShoes, the Ipari Prio could be the product for you. If Steve keeps going, ALL my shoes will be XeroShoes. I'm well on the way. Keep innovating, Steven!