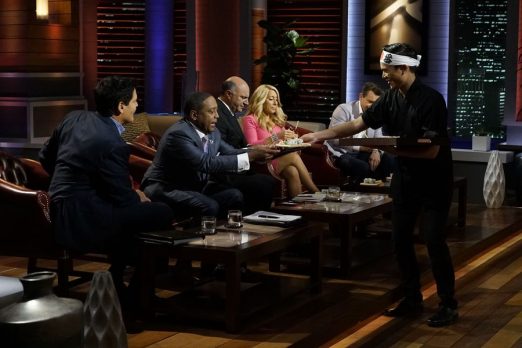 Mylen Yamamoto re-invented chopsticks while flying to Asia and now she wants her company, Cropmade, to be the new, "green standard" for Asian cuisine. Cropsticks are the first product her company produces. They are chopsticks made from sustainably harvested bamboo that come complete with a detachable holder. Once used, they can be composted or "upcycled" to create bamboo tiles for shelving, tables and more.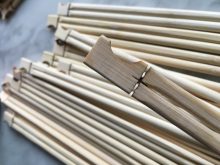 50% of the nearly 40 billion chopsticks sold each year come from wood trees. Trees take a long time to grow and replace themselves while bamboo regenerates in a matter of a few months. The real hook with Cropsticks is the holder. People who use chopsticks regularly need something to keep the business end off the table. Yamamoto designed Cropsticks so the tab the holds each chopstick together doubles as a holder. She got a lot of buzz when her Kickstarter campaign launched just after a popular "chopstick hack" post went viral on HuffPo. The business raised $21,816 to fund its first round of production and to pay patent expenses.
Yamamoto isn't new to entrepreneurship or building buzz on the internet. She taught entrepreneurial studies at Loyola and she operates CliqueNow, a talent management company that helps to build the careers of YouTube celebrities. With Cropsticks, she's using all her talents to make a ubiquitous product greener and more efficient. She hopes the Sharks use chopsticks when she pitches her business in episode 822.
My Take on these Chopsticks
I use chopsticks when I go out for sushi. I used to eat sushi a lot, but my wife stopped liking it after our daughter was born for some strange reason. Thankfully, I still get a sushi fix every month. I can wield a chopstick with the best of them and I always use one of the little trays as a rest. I don't keep them at home, but I use them when I go out.
The little patented rest tab may be a cool hook for a lot of folks, but it doesn't do much for me. What I like is the use of bamboo. Bamboo makes so much more sense for a disposable product like this (and for many other products). The thought of chopping down a tree to make a one-use chopstick just doesn't make sense to me. I will mention Cropsticks to my local sushi restaurant the next time I am in there. I am IN.
Do Sharks Dine with Cropsticks?
There is a huge market for chopsticks, but it is very much a commodity product. That could pose a problem for Yamamoto. The patented holder differentiates Cropsticks from her competitors, but is that enough for the Sharks? Yamamoto has to give a Shark a good deal to have a chance.
She also needs to show she has a plan to add more products to the line. Cropmade has to make more than Cropsticks to catch a Shark. The company website got a complete overhaul a few weeks before the show, but that doesn't mean a Shark invested.
Kevin won't invest because it's too much of a commodity. Likewise for Robert and Lori. The only Sharks that would go in on this are Daymond or Mark, and that's only if the deal is right.