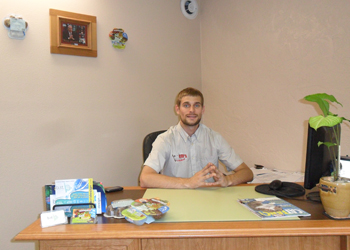 Blake St. Clair comes to episode 306 with his Bark'em's To Go. The idea of Bark'em's To Go is to provide traveling pet parents with a simple and convenient way to take their dog's meals on the road with them. The pre-packaged single-serving meals come in a throw-away dish that includes a compartment full of "vitamin-enhanced" water, and a treat. The packaging even includes a waste bag for the inevitable clean-up.
St. Clair hopes to market his product to pet lovers, but will the Sharks want a nibble of his clever kibble holders, or will they turn their tails on this pet product?
Bark'em's To Go Shark Tank Recap
St. Clair comes to the Sharks looking for $100,000 in return for a 51% stake in Bark'em's To Go. He presents his idea to the Sharks, showing them how his dog enjoys the product. Rummy, St. Clair's dog, makes an impression on the Sharks. coming over for attention with his tail wagging enthusiastically.
Mark Cuban calls the product "basically Lunchables for dogs." Kevin O'Leary wants to know if St. Clair is truly solving a problem, since most dog owners will simply carry food in a baggie. He questions whether there's a market for the product.
Robert Herjavec calls it a "good idea," because he travels with his dog. He thinks it would appeal to the large dog-food companies, as a novel way to package and sell their products. Despite having a patent pending, and a trademark on the name of his product, St. Clair hasn't been able to make the right connections with the dog food companies.
Daymond John wants to know if St. Clair has any sales. Bark'em's To Go are in the prototype stages. St. Clair doesn't have any sales thus far, which is usually a red flag for the Sharks. When Robert Herjavec clarifies that the only thing St. Clair actually owns is the patent and trademark on the packaging, and that the product relies upon a dog-food company buying into the idea, Kevin O'Leary has heard enough.
"This idea has absolutely no merit. It's absolutely worthless. Don't quit your day job. I'm out."
Mark Cuban thinks the product is too early in the process. He's out. Daymond John questions whether the patent is legitimate. He thinks the idea is good, but that it's too soon. He's out. Barbara Corcoran doesn't believe "people are going to spend the money to solve the problem that doesn't exist. She's out.
Robert Herjavec says he loves his animals and thinks it's "a great idea," but he thinks it's too early as well. He's out, and St. Clair leaves the Tank with no deal.
Bark'em's To Go Shark Tank Update
When St. Clair can't sell his business to the Sharks, he asks if he can get "$100,000 for 51% of the dog," referring to his dog Rummy, who is still sitting with Robert Herjavec, having his ears scratched. The Sharks laugh, but St. Clair still can't make a deal. His website is still alive, connected with a Kickstarter campaign. He hasn't given up on his Bark'em's To Go idea, but it doesn't seem as if he's making much head way thus far. The pet industry is a tough one to break into, and he'll have to run with the big dogs if he hopes to get ahead of the pack.
In June, 2015, Blake did an IndieGoGo campaign that only raised $49 on a $25,000 goal. Shortly after that, the website went dark and the product was never brought to market. Since then, he focused on running ProductGoGo, a product design and development firm. As of July, 2021, he's still running that business.
Company Information