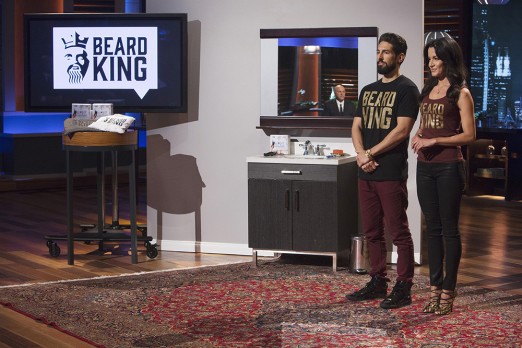 Nicholas and Alessia Galekovic hope to groom a Shark as a new business partner when they pitch Beard King, their bib that catches beard trimmings, in Shark Tank episode 707. Their flagship product is a spin on the old style barber's bib for home use. A bib suctions to the bathroom mirror while the other end clips around your neck. When you shave, it catches all the trimmings and when you're done shaving, you can easily dump the mess in the trash.
It comes in white or black and each Beard King bib comes with a handy storage pouch, so it's always easily accessible for grooming. Beard King also sells beard oils, brushes, and combs, plus branded tee shirts and hats. They've been in business since June, 2014 and they're the latest business to tap the still-strong "beard trend."
Will Beard King get a Shark to wear their bib?
Beard King Shark Tank Recap
Nicholas and Alessia enter seeking $100K for 20% of their "kingdom." They produce an old photo of Mr. Wonderful wearing a beard – much to the delight of the other Sharks. When they tell the tale of woe about cleaning up beard trimmings, Chris Sacca identifies with it.
The company was very new when they taped in the Shark Tank, but they did $80K in sales the month prior to taping, largely due to the success of their product video, which went viral. Each Beard Bib costs about seven bucks to manufacture and they sell for $29. They need money to scale manufacturing.
They have a patent pending on the product and they've been approached by some big wholesalers, but they don't have the capacity to fill big orders. Robert thinks they can bootstrap the operation based on their sales; he's out. Mark likes their ability to create content, but he'd like to see more products; he's out too. Mr. Wonderful calls it a beard diaper and says it's a product not a company. He doesn't know how he'd get his money back; he's out. Sacca gets it, but doesn't know how he'd help; he's out.
Lori understands it's women who get bugged about the hair in the sink. Nick says 60% of their customers are women. He asks Lori to make them an offer as the entire studio chants "LORI, LORI, LORI." She says she'd need 51% since, even though they've proven the market, it's still risky. Nick counters with 45% and Lori agrees. He places a crown and robe on Lori and calls her the Beard Queen!
RESULT: DEAL with Lori for $100K for 45%
Beard King Shark Tank Update
The Shark Tank Blog constantly provides updates and follow-ups about entrepreneurs who have appeared on the Shark Tank TV show. The deal with Lori never closed. The business was acquired in 2019 by a guy named Raj Patel for an undisclosed amount. It now sells beard oil, wash and other beard related items. As of August, 2022, the  company is still in business. Annual revenue is $1 million. In September, 2022, Patel sold the business to an Thrasio for an undisclosed amount.
Posts About Beard King on Shark Tank Blog
Beard King Company Information
Video