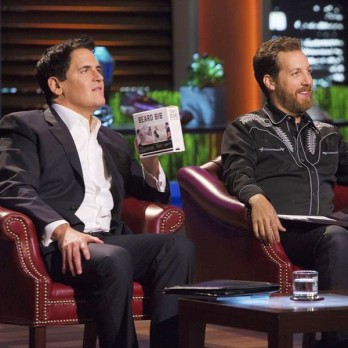 Beards are still in and guys with beards who have significant others will want a beard bib by Beard King in their tonsorial repertoire. Nicholas Galekovic rocks the close-cropped, full beard (not the full-on shaggy "hipster style"), so he obviously trims regularly. Anyone with a beard (or who lives with someone who has one) knows this can be a messy proposition. The beard bib is just what it sounds like: it's a bib that catches beard hair trimmings. One end wraps around your neck, the other hooks to removable suction cups, creating a catch-all receptacle for beard hair.
Nicholas started rocking his beard in high school. Like most teenagers, he was a slob about it and his mother was constantly yelling at him about the mess he made while shaving. Once he got married, his wife took over the role of "cleanliness counselor," and more confrontations occurred. He figured there had to be something out there that could make things easier than putting down a towel or t-shirt, but there wasn't. Like any self-respecting entrepreneur, he invented a solution.
One day, after few glasses of wine, the idea came to him. He sketched a concept and started cutting, gluing and stapling random materials to make his prototype. After making and using the product for himself on a regular basis, he decided other bearded men could benefit from his invention. Nicholas, along with his wife, Alessia, created a male-centered brand around the product back in 2014 and have not looked back. They likely want a Shark to help bring their beard bib to the mainstream.
My Take on the Beard Bib
I did not have a beard in high school, but I've been growing one in the winter for nearly 30 years. I sport the Van Dyke style beard when I grow one. My mother HATES facial hair, and I've been known to shave it off for her birthday (only to grow it back a week later).
My wife is beard neutral, but she has issues with "all those tiny hairs" that get left in the bathroom when I groom. It's led to more than one "discussion" about household cleanliness. I typically use a towel to block the sink, but it's still not a perfect solution. When I saw the video of the beard bib, I thought it was a cool idea.
At 30 bucks, it's a tad steep; Nicholas should be able to get the price down with a bigger production run – which a Shark investment could help with. It looks like a hybrid of a barber's bib, but for home use. It has a little storage bag, so you don't have to wash a towel every time you shave. I'd probably use this – to the delight of my wife!
Do Sharks Catch the Trimmings and Invest?
One of the first things out of Mr. Wonderful's mouth will allude to the niche aspect of the product; that could be an issue. Lori isn't likely to have much interest; it's just not in her wheelhouse. I am sure it's no mistake on the producer's part that the beard bib is getting presented when Chris Sacca is a guest Shark. Sacca sports a full beard with his cowboy shirts.
This pitch will come down to valuation. If it's cheap for the Sharks to get in, one could take a flyer. Although the  Galekovics started the company in 2014, that was more of a "test phase;" 2015 was their first fiscal year, so they probably only had 6-8 months of sales figures when they pitched the Sharks. Sacca does demo the product in the episode, so if he sees it as a good idea, it could spark some interest.
The beard bib is a neat product, will they be able to create a business out of it?