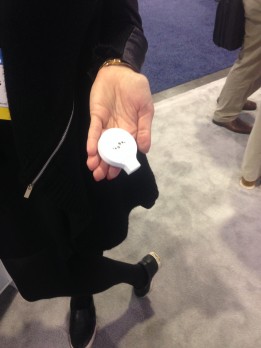 While patrolling the show floor at CES, I stopped to get a Breathometer update when I spied their booth. IPhone camera and notebook in hand, I approached the marketing director to check on their progress (Charles Michael Yim was not there). Some people may not be aware of their recent partnership with Uber, who provides discounts to Breathometer users. Together, the two companies are tackling drunk driving in a proactive manner.
Aside from the Uber partnership, BIG THINGS are on the horizon for Breathometer! At CES they announced a new partnership with Phillips Corporation, the makers of the Sonicare toothbrush. At the heart of the announcement is Mint, a new component to Breathometer's breath analysis platform. Mint will measure "breathe quality" as an indicator of overall oral health and hydration. The new Mint will help identify the root cause of oral health problems, which, studies show, can be an indicator of bigger health issues like heart attack, stroke, poorly controlled diabetes and pre-term labor.
Even though Breathometer has the backing of all five Sharks, they still use crowdfunding platforms to help them raise both money and awareness for their new innovations. A current IndieGoGo campaign has raised over $116K as of this writing. Their primary goal of the campaign was to obtain both financial backers and interested beta testers for the new product.
Breathometer Update on Shipping
Mint should ship in March, according to representatives present at CES. The full partnership with Phillips will be complete by Q4 2016. I wasn't the only person checking in on Breathometer that day. As I finished talking with the representatives, Mark Cuban showed up to get his own update!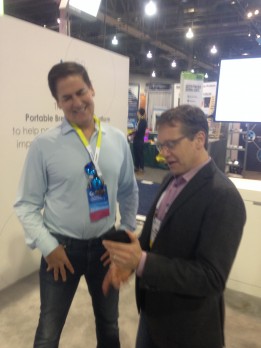 He got a brief demonstration, chatted with me for a minute, and moved on to other booths to check out all that CES has to offer! When I spoke to Cuban, he said, "good job with the blog," and he asked if all the entrepreneurs I interviewed said nice things about him. I told him most of them did!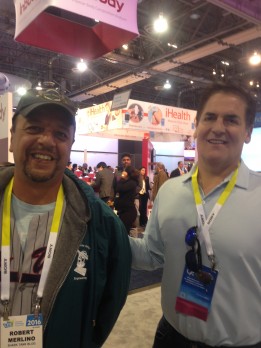 With the new partnerships, it's clear Breathometer is taking their business well beyond the "gadget stage" and into the realm of products that can preserve both life and health. Look for Breathometer to be a $100 million company in a few years – or less!