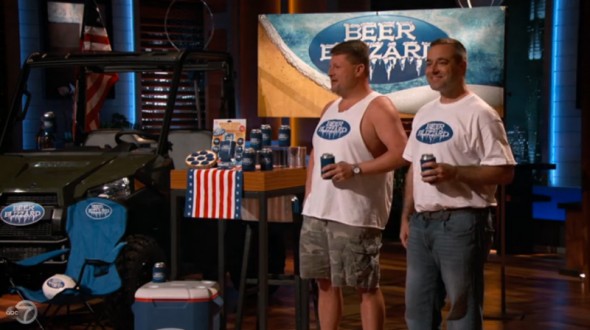 Mike Robb and Tom "Ozzy" Osborne bring their successfully Kickstarted mini beer cooler, the Beer Blizzard, to Shark Tank episode 725. The pair raised $43,574 on a very modest $5,000 goal to get their first round of tooling made back in June, 2014.
The product is a small plastic disk containing a re-freezable material (not unlike the blue ice blocks for coolers). The disk's shape is contoured to fit the ubiquitous beer can. It slips inside a koozie or sets on a bar or table like a coaster. When your beer touches the Beer Blizzard, it actually gets colder! It even works with bottles. As they say on their website: "From the first sip to the last your beer will be ice-cold!"
A six-pack of Beer Blizzards is $12.99 and a 12 pack is $19.99. Each pack comes with a "free" Beer Blizzard koozie. The product is currently available on the company website and they can ship them anywhere in the world. They likely want a Shark's help getting their product to the mass market.
Will a Shark think this is a cool investment?
Beer Blizzard Shark Tank Recap
Tom and Mike come into the Tank seeking a cool $100,000 in return for 20% of their company.
Lori's first question gets to the bottom of her interest in Beer Blizzard. She wants to know if they've had their product tested. Mike explains that they've had the Beer Blizzard CBA tested by an independent laboratory. The Blizzard, in conjunction with a "koozie," keeps the drink cold for up to 20 minutes. They have a utility and design patents pending.
Lori wants to know if they've considered the soft drinks market as well as beer. The pair say "this product's for beer." Their Kickstarter campaign reached $43,000 in 45 days. In a year, they've sold 11,000  sets of six, with gross sales of $156,000, and net profits of $35,000.
They'd like to build their inventory and hire full-time fulfillment centers to meet demand, and to reach out to beer companies to license their products as a promotional item.
Robert Herjavec sees the Beer Blizzard as a promotional item and isn't interested in it as a business. He's out.
Daymond John doesn't see how he can add value, and doesn't have the connections the pair needs. He declines to offer a deal.
Mark Cuban is interested. He offers $100,000 for 25%.
Lori Greiner sees a market in Bed Bath & Beyond, Target, and other retailers. She offers $100,000 in return for 20%, exactly what they're looking for.
Tom, however, says that Mike "has a serious man-crush" on Mark Cuban, as they're both from Philadelphia, PA. They accept Mark's offer, and leave the Tank with a Shark deal.
RESULT: DEAL with Mark for $100K for 25%
Beer Blizzard Shark Tank Update
The Shark Tank Blog constantly provides updates and follow-ups about entrepreneurs who have appeared on the Shark Tank TV show. Once an episode has aired, we monitor the progress of the businesses featured, whether they receive funding or not and report on their progress.
It seems a bit short-sighted for the pair to have turned Lori down without angling for a deal with two Sharks. It's possible that, given an opportunity, Lori and Mark would have joined together to offer an even better deal, but the "man crush" won out. Unfortunately, the deal never closed. They raised $43,574 on Kickstarter after airing on the show.
Even without Mark's guidance and help, the pair are working to get Beer Blizzard into NASCAR venues and into large retailers like Wal-Mart. They've expanded their offerings to a can opener that resembles a green plastic army man toy, generating an even greater reach into the beer-drinking market. Mark Cuban could have cracked himself a cool profit on this investment.
They were working on a licensing deal with Dale Earnhardt Jr., but it fell through and the company closed in 2018.
Posts About Beer Blizzard on Shark Tank Blog
Beer Blizzard Company Information
Video