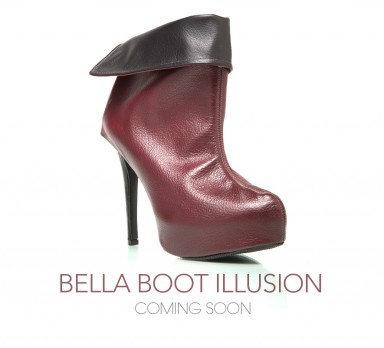 Boot Illusion creators and business partners Queenie Davis and Andrew Goodrum introduced the Sharks and the world to their business in episode 313. The product is a leather or fabric "upper" that slips over conventional woman's heels making them appear like a boot. A typical Boot Illusion costs a fraction of what a new pair of boots would cost, so women can get 3 or 4 "new" pairs of "boots" for the price of one! The uppers zip right off and can slip into a bag to change looks on the fly. Queenie explained she had a manufacturing arrangement in Turkey and was looking for help with retail distribution.
Boot Illusion in the Shark Tank
Queenie and Andrew were seeking $100k for a 30% share of her business. The Sharks liked Queenie and the concept. Robert didn't think he could bring value to the shoe business, so he's out. Mark's not a fashion guy, so he's out. Mr. Wonderful thinks the valuation is out of whack; he's out too. Daymond wants to license Boot Illusion and he offers $100K for 75% of the business. Barbara offers $100K for 55%. Barbara tells Queenie and Andrew all the people she works with are happy. Andrew thinks 55% is too much, but they accept the offer from Barbara.
Boot Illusion after the Shark Tank
After episode 313 aired in the Spring of 2012, the company kind of went off the radar. Their OLD website kept promising a catalog would be out soon, but nothing appeared to change. Boot Illusion had a NEW website, but there was no link from the old site. This put Queenie and Andrew's business at a bit of a disadvantage.
The deal with Barbara didn't go through either. The business wasn't as far along as Barbara had hoped, so she never invested; she does keep in touch with Queenie and could jump back in the deal once manufacturing issues are squared away.
Queenie told me in an interview that she suffered some setbacks. Their Turkish manufacturer basically went out of business. They made arrangement s with a Brazilian manufacturer to have product for Christmas 2012, but the fabric Queenie shipped to Brazil got held up in customs and didn't make it to the manufacturer in time. Boot Illusion had to return all the money they collected from orders taken by wholesalers and consumers. The issues have been ironed out and Boot Illusion should become available in March, 2013. Things, however did not get ironed out and she shuttered the business.
Posts about Boot Illusion on Shark Tank Blog
Company Information
NEW website