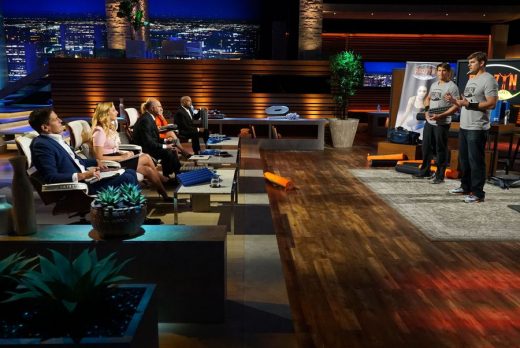 Tom Hopkins and Nate Lawrie hope to roll out of the Tank with an investment in Brazyn Life in episode 902. Their product is a foam roller – the type used for exercise and stretching. Lawrie, a former NFL tight end whose career got cut short due to back injury, first discovered foam rollers while rehabbing his back. He stretched the back, did ab exercises and massaged himself with foam rollers and quickly became a devotee.
Lawrie likes to travel, and he wanted to bring a foam roller with him to help stay fit. He and Hopkins designed a roller that collapses so it packs easy. They raised $65,382 in a successful Kickstarter campaign back in December, 2015 to get their prototype into production. There were some production issues (fairly typical with most Kickstarters) and didn't deliver until the following Christmas. Now, their foam roller, called the Morph, is readily available.
They claim it's the world's only collapsible foam roller, but there are a slew of non-collapsible foam rollers out there. The Brazyn Life version is less bulky, but no less sturdy than the others. One of their rollers cost $68. For another ten bucks, you can add a skin which covers the roller and gets taken off to throw in the wash. Other accessories include an extension kit to attach two rollers together and Brazyn Life tee-shirts. They offer a variety of bundle options to lower the cost of purchasing multiple items.
Lawrie and Hopkins probably need money for production and marketing. Will a Shark be brazen and invest in this fitness product?
Brazyn Life Company Information
Video

Posts about Brazyn Life on Shark Tank Blog
Brazyn Life Shark Tank Recap
Steven and Eric enter seeking $225,000 for 10% of their company. They tell their story, demonstrate the product, then ask if any Sharks want to try it. Kevin says he uses a foam roller and Mark jumps up to try it out. They hand out samples and the questions start coming. Nate credits the foam roller with extending his NFL career by five years, but traveling with it was a pain, hence the invention. it's the only collapsible foam roller on the market and there is a patent pending.
They sell for $68 – more than most foam rollers – and it costs $26.75 to make. Nate says he can get that cost down with more volume. So far, he's done $50,000 in sales and he's projecting $2.4 million for the year. They're made in Romania in Nate's wife's father's factory.
Kevin questions the valuation, but Daymond jumps in and offers $225,000 for 15%. Kevin offers $225,000 for 20%. Sara tells Nate this is his "Oprah moment," but she wants to hear what Mark has to say. Mark goes out. Lori wants to team up with Sara to offer $225,000 for 20% – 10% each. Then Kevin and Daymond team up to give the same offer as Lori and Sara. Nate counters with $250,000 for 20% and both teams agree. After some whispering, they go with Lori and Sara.
Brazyn Life Shark Tank Update
The Shark Tank Blog constantly provides updates and follow-ups about entrepreneurs who have appeared on the Shark Tank TV show. The deal with Lori and Sara never closed. In the aftermath of the show's original air date, the company sold out of product. They've expanded their line to include The Morph Stick and two models of Morph Rollers. As of June, 2021, the company is rounding up a successful IndieGoGo campaign for a space saving incline bench called The Flip Bench. Their latest development is their Talon Massager, a massage gun that  has attachments to reach anywhere on your body. As of April, 2023, the business has $6 million in annual revenue.