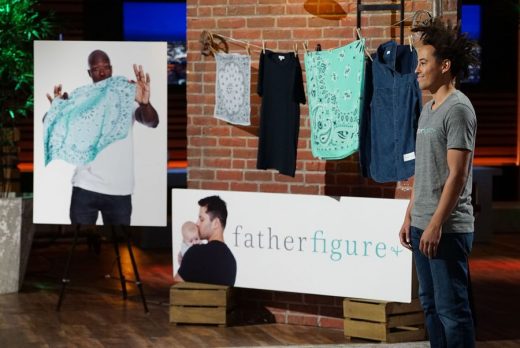 Andrew Bentley hopes to find a fit for Father Figure, his "lifestyle brand for dads," in Shark Tank episode 902. It seems while Bentley's wife was pregnant, he didn't find anything that spoke to him as a father-to-be. Since he took a leave from his job to care for his newborn son, he realized there wasn't a lot of love for dads from companies that catered to new parents.
Millennial dads are far more involved in childcare than preceding generations, yet Bentley quickly found out dads were pretty much ignored, so he started Father Figure. After working at Google for ten years, Bentley decided he wanted dads to get equal time when it came to clothing. He launched a Kickstarter to get his clothing brand off the ground.
The clothes are made in the USA. To date, there are three products: a denim shirt with soft moleskin sleeves and shoulders, a tee-shirt with an extra shoulder pad, and a muslin cotton bandana style burp rag. The clothes have baby's comfort and dad's coolness in mind. Bentley set the company up as a public benefit corporation and partners with Fathers Incorporated – a national "responsible fatherhood nonprofit" which educates and advocates about issues surrounding modern fatherhood.
Bentley is serious about fatherhood and his business, will a Shark share his passion?
Father Figure Company Information
Video

Posts about Father Figure on Shark Tank Blog
Father Figure Shark Tank Recap
Andrew enters seeking $80,000 for 15% of his company. He has two dads come in with their infants which had the desired effect of softening up the Sharks a bit. The dads demonstrate the clothing as the Sharks – except for Kevin – "ooh and ah" over the babies. Once the mini fashion show was over, it was time to get down to business.
Andrew reveals he's done about $33,000 in sales over 11 months. The Sharks were initially impressed, but that disappeard when they found out all but $2500 in sales came from the Kickstarter campaign. Daymond asks about costs and has concerns that the denim shirt costs $76 to make (it sells for $128).
Lori goes out first citing Daymond's concerns. Mark follows saying he didn't think Andrew had proven a need. Kevin went out in harsh Mr. Wonderful fashion saying "there's nothing here – it's going to zero." Daymond had concerns that a "Google guy" couldn't sell his own product online and he went out too. Sarah wasn't sure of the function of paternity clothing and she went out too. Result: NO DEAL.
Father Figure Shark Tank Update
The Shark Tank Blog constantly provides updates and follow-ups about entrepreneurs who have appeared on the Shark Tank TV show. This business shut down in July, 2019. Andrew is currently a Project Leader at the Harvard Kennedy School of Government Performance Lab in Minneapolis, MN.