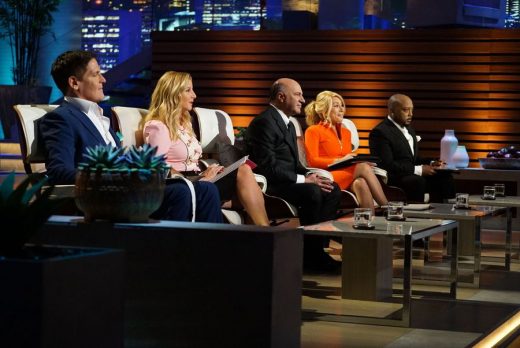 A new Sharkette enters the Tank in episode 902 as billionaire founder of Spanx, Sarah Blakely joins the panel as a guest Shark. Blakely is one of the richest women in the world and fits right in with the wealthy panelists. She'll hear pitches from four new entrepreneurs seeking to start, grow, or save their businesses.
Google veteran and new dad Andrew Bentley pitches Father Figure, a "lifestyle brand for dads" that sells clothing for new fathers. Former NFL tight end Nate Lawrie and partner Tom Hopkins hope to roll out of the Tank with a Shark as a partner in Brazyn Life, their collapsible foam fitness roller. Matt and Melissa Hammersley seek a Shark's guidance for Novel Effect, their smart phone app that provides musical accompaniment and sound effects for children's books as they are read. Jennifer and Gifford Briggs, along with their five daughters, hope for a deal for Drain Wig, their patented clog prevention device.
Which business gets a Shark for a new partner?
The Sharks
---
Daymond John
Kevin O'Leary
Entrepreneurs
---
Update Segment – Profile on Sarah Blakely
Sarah Blakely is the billionaire founder of Spanx. Tonight's update profiles the self-made woman and her rise to wealth and power.
There are 28 Shark Tank Episodes for Season 9. This season features more appearances by "guest Sharks," including billionaire Sir Richard Branson. The 200th episode also airs this season. Casting is currently closed, but it never hurts to get a head start on season ten! If you would like to appear on the show, check out our Auditions and Casting information.
Episode 902 – The Shark Investors and Entrepreneurs
The Shark Tank Episode 902 entrepreneurs will make their best pitch to the panel of five Shark investors who will use their own money if they choose to invest. The Shark Investors negotiate on the spot without any previous information, which differs from typical negotiations between venture capital investors and entrepreneurial start-ups.
Companies pitching the Shark Investors must go through a rigorous due diligence process before an on-air deal is completed. Shark Tank Blog follow ups help you keep track of the companies that end up successful and the ones that don't complete their deal.
Thank you for reading SharkTankBlog, the number one site for Entrepreneurs, Investors and Fans. Our content updates multiple times day, giving you the latest information on Episode 902, Season 9, and all other seasons and episodes.
Episode 902 Press Release
Shark Tank: Episode 902 (10/29)
BILLIONAIRE SPANX FOUNDER SARA BLAKELY JOINS THE 'TANK'
IN THIS NEW EPISODE OF 'SHARK TANK,' ON SUNDAY, OCTOBER 29
"Episode 902" – A graphic designer and a patent attorney from Olympia, Washington, have a high-tech way to make children's story time more magical, but the Sharks are skeptical of their business model; a father from Brooklyn, New York, has a brand of functional paternity clothing for new dads; parents from Salem, Utah, bring in their five daughters to showcase a solution to hairy drain problems in the shower and bathtub; and a former pro football player and his business partner pitch a better version of a workout device.
Also, a profile on Sara Blakely, the founder and sole owner of the category-defining company, Spanx, and how her brand was born from a simple goal. She is an advocate of empowering women to be whatever they want to be in order to build successful businesses and create economic opportunity in their communities, on "Shark Tank," airing SUNDAY, OCTOBER 29 (9:00-10:00 p.m. EDT), on The ABC Television Network.
The Sharks in this episode are Mark Cuban, Kevin O'Leary, Daymond John, Lori Greiner and Sara Blakely.