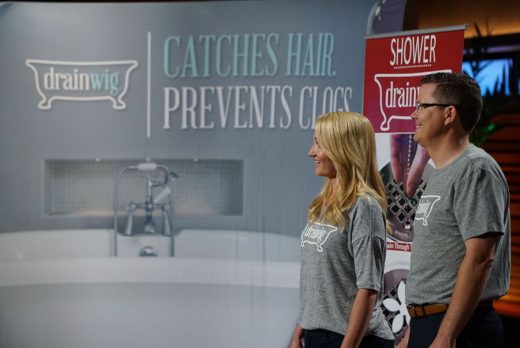 Jennifer and Gifford Briggs, with help from their five daughters, seek an investment for Drain Wig, their disposable de-clogging device for bath tub drains. The Brigg's created the Drain Wig to have a less disgusting, chemical free way to get hair out of drains. Hair is the leading cause of drain clogs in bathrooms. Most solutions involve sticking some sort of reaming device down the drain, then removing disgusting hair from the device. They pitch their product to the Sharks in episode 902.
The DrainWig is basically a chain that hangs inside the drain. It traps wayward hair and hangs on to it. When the drain starts running slow, pull up the chain and throw the whole thing, hair and all, into the trash. Since it's disposable, you never have to touch the disgusting sludge you yank out of the drain. It also eliminates the need for chemical drain cleaners.
Each Drain Wig costs $19.95 for a pack of four. This is a year's supply for most families. The patented product is only sold online and it comes with a full guarantee. So far, the Brigg's sold a lot of Drain Wigs through an infomercial-type ad. They probably want a Shark to help get into mass retail outlets. Will a Shark drain their account to invest in this product?
Company Information
Video

Posts about Drain Wig on Shark Tank Blog
DrainWig Disposable Drain Unclogger
Drain Wig Shark Tank Recap
Jennifer and Gifford and their girls enter seeking $300,000 for 5% of their business. They explain how their product came to be and the role their girls played in creating the invention. After the pitch, the girls handed out samples then left the Tank. Daymond wants to hear the numbers. They make it for $1.10 and sell it for $9.99. The product is in "all big box stores." Total sales to date are $14.2 million which gets the Shark's attention. Unfortunately, they've only received $800,000 in royalties from an infomercial company they did a deal with. They now bought everyone out and own 100% of the business.
Mark says he doesn't want to reinvent the business; he's out. Kevin offers $300,000 for 20% of the business. Sara says they can do it on their own; she's out. Daymond offers $300,000 for 20% and Lori offers $300,000 for 25%. They counter with 10% and the Sharks basically ignore them. Then they counter with 15% and tout the business they can do with hotels. Daymond starts to talk and Kevin says "I'll do it."
Drain Wig Shark Tank Update
The Shark Tank Blog constantly provides updates and follow-ups about entrepreneurs who have appeared on the Shark Tank TV show. The deal with Kevin closed. Drain Wig has been a big success. They're still in virtually every big box store and Amazon. As of April, 2023, the company is still in business and is doing $1 million in annual revenue.