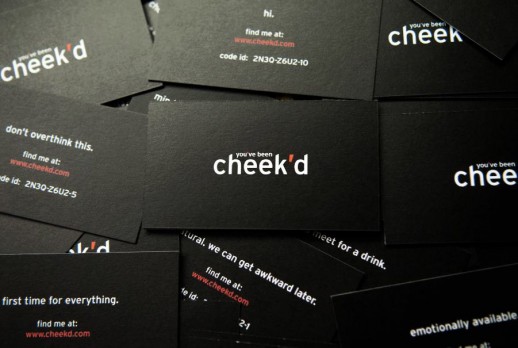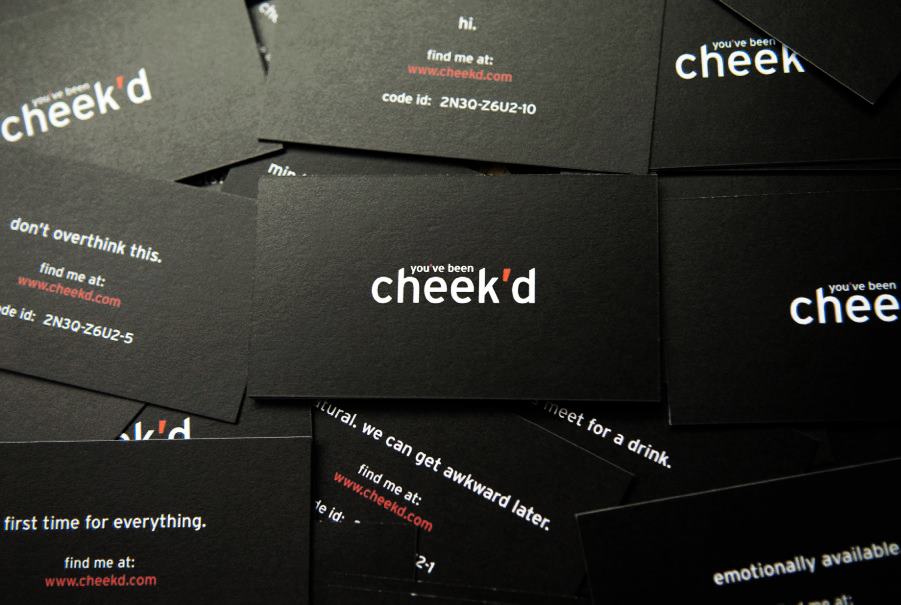 Lori Cheek brings a service called Cheek'd, the next big thing in online dating, into the Shark Tank in episode 517 on February 28. Cheek'd is more like online dating in reverse – you sign up for the service and you're sent a stack of cards the size of business cards. Each card has "pick up lines" on them along with a code. If the card recipient is interested, they go to the Cheek'd website and check out your profile; if they're interested, they can contact you.
Some of the cards are a bit "snarky," as Lori puts it. They have sayings like "I'm much better than the person you're with," "just act natural, we can get awkward later," and more. What makes Cheek'd unique is it adds a human element to online dating because there's an actual in-person contact, however brief, before the online courtship starts.
Cheek'd is likely looking for cash and some IT expertise from a Shark.
Cheek'd Shark Tank Recap
Lori comes to the Sharks looking for a $100,000 in return for 10% equity. Her idea was born when a friend wrote "Want to have dinner?" on the back of a business card and handed it to a woman he found attractive. He landed a date, and the idea for Cheekd was born.
The cards have a pickup line on one side, like "I'm flirting with you. 😉 " and on the other, a unique code that leads them to the giver's personal online profile. The technique allows singles to connect with potential matches unobtrusively, and without sharing too much personal information right away.
She hands each Shark a personalized Cheekd card. Robert Herjavec's reads "I saw you teching me out."
Barbara Corcoran is amused, but she has questions about how they work. Users purchase a "deck" of Cheekd cards for $20, and pay $10 a month to keep their code and profile active. The Sharks want to know about numbers. At the time of airing, Cheekd was in 47 states, and 28 countries. There were 4,500 active members, with 1,125 paid members. Lori has made $56,000 in 3 years with Cheekd. She's invested $120,000 of her own money.
Kevin O'Leary says "my definition of a hobby is something that doesn't make any money in 3 years." Lori is essentially homeless, having given up her apartment. She's living by "couch surfing"- living on friends' sofas. She explains that her website has been "broken" and that she's only recently gotten the kinks sorted out. Mark Cuban is unimpressed. "You've fixed it after spending $120,000? I have a rule, when people come in who are delusional, I have to say I'm out. I'm out."
Kevin O'Leary, in true Mr. Wonderful style, tells a story about a boy whose father makes him shoot his rabid dog. He says "your deal is your dog. If you won't let me shoot it, I have to say I'm out."
Robert Herjavec thinks that people like online dating because of the anonymity and the convenience. He thinks the business model is flawed, and he's out. Lori Greiner agrees. She doesn't feel the idea is working. She's out.
Barbara Corcoran doesn't believe the business model works either. "You're the right entrepreneur, but this is the wrong business." She's out.
The final Shark has spoken, and Lori leaves the stage without a Shark deal.
Cheek'd Shark Tank Update
Lori Cheek provided an update on her progress, she re-branded and rebuilt Cheekd in a little over one year and here's the story in her own words:
After getting shot down by all five Sharks, I looked them in the eye and said, "Trust that you'll all see me again." Although those final bold words of mine ended up on the cutting room floor (adding insult to injury), in the 48 hours after the broadcast,Cheekd.com received a record-breaking 100K unique visitors and our inbox filled up with thousands of emails insisting that the "Sharks" were "out of their minds" for not investing. A little under 50 of those emails were from interested investors. Since the Shark Tank aired in February of this year, I found the missing link from years before. I've gotten a CTO on board who's helped facilitate and finance the new face and technology behind the new Cheekd. The newly launched dating app allows users to solve missed connections with a new technology that was not available when the patented Cheekd ideawas launched in 2010. It was only a matter of time and I'm thankful I didn't take the Sharks advice to quit and move on. While the physical cards worked anywhere in the world and were a perfect way to break the ice, we found a few barriers; the main one being that our users were still quite intimidated to walk up and slip a card to a total stranger.  Looking into alternatives of ways we could change the platform, we discovered a way to make these IRL encounters much easier and less intimidating via a mobile solution. Previously, with the Cheek'd Version1, users would use a set of clever cards to introduce themselves to individuals they encounter in the offline world who sparked their interest. If the interest was mutual, the card recipients used the card's unique code to reconnect easily with the person via a private online profile viewable at Cheekd.com.
The newly launched Cheekd reimagines online dating with a new app that makes missed connections obsolete. Cheekd uses a cross-platform low energy Bluetooth technology, which fosters hyper local engagement. The app connects people in real-time, versus virtual time. Connections begin in person; Cheekd helps you take the next step and continue the conversation online.
Cheekd ensures you 'Never Miss a Connection'; thanks to this new Bluetooth technology, the app works on the train; on a plane… anywhere—You'll get an immediate notification if someone who meets your criteria is within 30 feet of you.  If you're near a potential spark, Cheekd makes sure you know about it. More images of the app can be found here.
In September 2017, the company was sued for patent infringement. Alfred Pirri claimed Cheek stole the idea he made up in 2007. He claims he told his therapist about it who then told Cheek. That case was dismissed in April, 2018. The following year, in October, 2019, the same man sued Cheek for defamation. He claimed he was calling him "crazy" on social media. That case was dismissed in March, 2021 and Pirri was ordered to pay Cheek's attorneys fees. As of April, 2023, the company is still operating with estimated revenues of $1 million per year.
Posts About Cheek'd on Shark Tank Blog
Cheek'd Information
Cheek'd Video