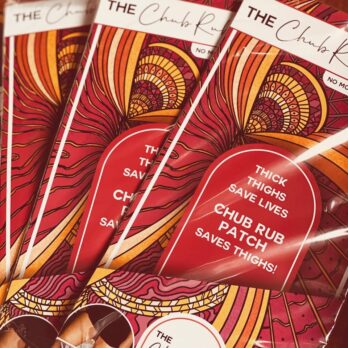 Brittany Lammon hopes to get a deal for her Chub Rub Patch, patches that stick to your thighs to prevent chaffing, in Shark Tank episode 1414. A hairstylist by trade, Brittany started her business under the corporate name BragCreations, LLC back in January, 2020. In addition to running her fledgling business, she works as a hairstylist for WWE and travels around the country doing the wrestlers' hair.
She got a lot of attention world-wide when several of her product demonstration videos went viral on Tik Tok. That led to distribution in the USA and nine other countries. The Chub Rub Patch sticks to the inside of your thighs and prevents chaffing by providing a barrier between your skin and clothing. Many fabrics create friction when you're just walking around – particularly when wet – and cause sometimes painful chaffing. While Brittany's focus consumer is "thick" women, anyone can suffer from chaffing.
The Chub Rub Patch is made of hypoallergenic materials and they are latex free. They're also sweat proof, so they provide protection even when exercising. A two pack will set you back $8.99 and a three pack is $12.50. There are discounts if you subscribe to the company subscription service. While she has experience with launching other products (she has a patented tool that lets hair stylists open bobby pins with one hand), she likely wants a Shark's help with marketing and getting into retail.
Company Information
Video

Posts about Chub Rub Patch on Shark Tank Blog
The Chub Rub Patch for Chaffing
Chub Rub Patch Shark Tank Recap
Brittany enters the Shark Tank seeking $200,000 for 30% equity in her company. She explains that Chub Rub is when your thighs rub together causing chaffing and a "nasty, painful rash." The Sharks are grossed out by pictures of chaffed thighs that Brittany reveals. Next, she reveals her product and puts patches on her thighs. She asks the Sharks who wants to help prevent Chub Rub!
Robert says it's a problem he suffers from because he's a runner. Mark says he used to suffer from it in his "more rubenesque days." Britanny started in July, 2021 and she has $105,000 in sales. They sell for $8.99 and cost $2.12 landed. It's a one time use product, but you can wear them for 3-4 days. She got the idea for the product whill working at WWE. A lot of the wrestlers had chaffing from having thick thighs. Other products on the market are not an all day fix.
Emma says this product is perfect for influencer marketing. Emma doesn't like the name but Mark thinks it's hysterical. Brittany says she's only had a couple of complaints about the patches causing skin irritation. She wants the $200,000 for marketing.
Kevin wouldn't use the product; he's out. Mark says his trainers with the Mavericks just use vaseline; he's out. Robert doesn't think the product is ready to go big; he's out. Lori wishes Brittany good luck, but she goes out. Emma says it's not an investable opportunity for her; she's out too.
Chub Rub Patch Shark Tank Update
The Shark Tank Blog constantly provides updates and follow-ups about entrepreneurs who have appeared on the Shark Tank TV show. After the original air date, she got her patches on Amazon. She also began shipping internationally to Germany, Italy, Brazil, the United Kingdom and Israel. As of June, 2023, reliable revenue figures are unavailable.
The Shark Tank Blog will follow-up on Chub Rub Patch & Brittany Lammon as more details become available.