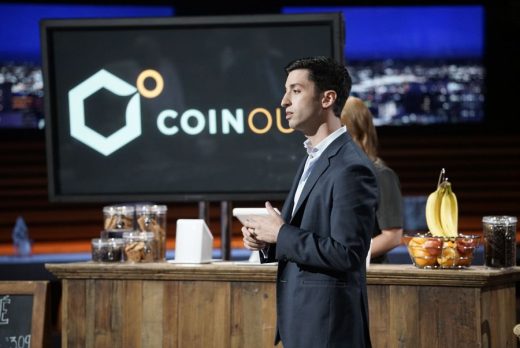 Jeff  Witten hopes to cash in with Coinout, his cash transaction app, in Shark Tank episode 921. Witten was a Googler in 2013 where he worked in the mobile payments space. He originally envisioned an app that made making change easier for both merchants and customers. When Coinout launched in January, 2017, it only worked with certain merchants, now consumers can earn cash back from any receipt.
Coinout works two ways. The first way is consumers can earn cash back on any purchase. Simply scan your receipt in the app and money is instantly added to your account. There is a three scan limit per day. The second way to add funds to your Coinout account is using a merchant that signed up for the service. When you pay with cash, you can opt to have your change deposited into your account. You can also pay with your balance at these participating locations. Each account is keyed to your cell phone number.
When you want to cash out, you hit the cash out button in the app. You can digitally donate the funds to a charity, get an Amazon gift card, or have the funds deposited into a bank account. Other than adding a bank account to get paid, there is no financial information required to sign up. When the app first launched, it only allowed consumers to scan receipts from select merchants. Now, you can earn cash back on any receipts.
The reviews in the app store are all very positive. People LOVE earning money on something they already do anyway and merchants like the convenience. Making change is a pain for many small businesses and this app simplifies things. For consumers, it's free to use. Merchants pay a $10 monthly fee to add Coinout to their payment processing system. Witten likely wants a Shark's help expanding his merchant list. Will a Shark cash in on Coinout?
Coinout Company Information
Video

Posts About Coinout on Shark Tank Blog
Coinout Shark Tank Recap
Jeff enters seeking $250,000 for 7.5% of his business. He explains how it works and then starts fielding questions from the Sharks. Kevin wants to know how he won't get crushed by a big payment processor. Jeff says the processing industry thinks cash is going away – it isn't; Mark agrees. Loyalty programs for the retailers help too. Retailers pay $20 per month plus a 3% transaction charge.
Mark thinks Jeff isn't looking at the bigger picture and he's the first Shark out. Lori likes the concept but she doesn't know how she'll get her money back; she's out. Barbara thinks Jeff will be successful and she offers $250,000 for 15%, contingent on signing up 700 retailers by the end of the year(2018). Jeff doesn't appear confident he'll get to that number since the year is half over. Mr. Wonderful offers $250,000 for 25% with no contingencies. Then Robert offers $250,000 for 15% contingent on a successful pilot with a large retailer. Jeff accepts Robert's offer.
Coinout Shark Tank Update
The Shark Tank Blog constantly provides updates and follow-ups about entrepreneurs who have appeared on the Shark Tank TV show. The deal with Robert never closed. The app grew its user base to over 3 million scanned receipts per month by 2021. In March, 2021, the company was acquired by IRI Worldwide for an undisclosed amount. As of June 2021, they had $12 million in annual revenue.
Jeff stayed on at the company until April, 2022. He now advises and invests in start-up companies.