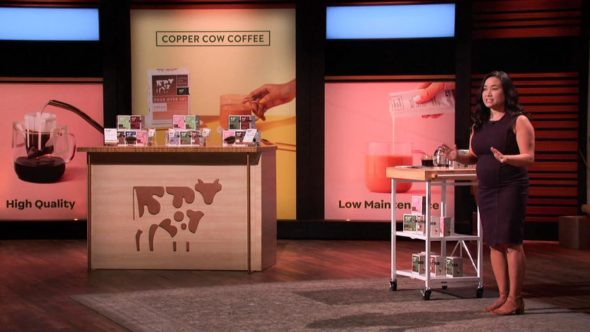 Debbie Wei Mullin hopes to brew up a deal for Copper Cow Coffee, her Vietnamese coffee business, in Shark Tank episode 1222 – the season 12 finale. Vietnamese coffee is somewhat bitter and nutty; it's served with condensed milk to offset the bitterness. It is a "pour over" coffee: each packet of coffee comes with a mini  brew basket and a small packet of condensed milk. More like making tea, you pour the hot water through the disposable filter to brew a cup.
Mullin sources her coffee from sustainable coffee farms in Viet Nam. Vietnamese coffee packs quite a punch. They use Robusta beans which have about 35% more caffeine than the more common Arabica beans. Debbie's grandmother immigrated to the USA in 1975 and she grew up drinking this kind of coffee. She created Copper Cow to make brewing a cup up a little more convenient.
Like many businesses, Debbie faced challenges when the global pandemic hit. Three sales channels, hospitality, office and wholesale, trickled to zero, so she focused on the two channels that could provide the most revenue: grocery and eCommerce. Now, Copper Cow is in over 3000 stores. Ecommerce revenue tripled, grocery doubled and 2020 earnings were 4 times the previous year, coming in at around $7 million.
A five pack of coffee costs $15. It comes with 5 filter pack and 5 creamers. There's also a monthly subscription service that let's you save up to 30% off the retail price. Debbie made all the right moves in 2020. She's hoping a Shark can help her navigate the waters in 2021 and beyond.
Company Information
Video

Posts about Copper Cow Coffee on Shark Tank Blog
Copper Cow – Single Serve Vietnamese Coffee
Copper Cow Coffee Shark Tank Recap
Debbie enters the Shark Tank seeking $600,000 for 4% of her business. The Sharks recoil at that number. She tells her story and how she loves her Vietnamese coffee. Daymond likes the packaging and the coffee but Robert thinks it's too sweet. She left the world bank to start the business 4 years ago. Each box costs $3.10 to make and the sell for $15. In 2017, she was in 1000 stores. Total sales are $4 million: $170,000 in 2017, $500,000 in 2018, $1.6 million in 2019 and $2 million year to date (2020). 80% of sales are online and 20% are retail.
She raised $2 million in 2018 and she has $1.5 million in the bank. She did another round of venture funding of $1.5 million at a $15 million valuation. Mr. Wonderful calls the valuation insane.
Lori says she loves the idea, but it isn't for her; she's out. Debbie thinks she'll do $3.5 million in the next six months. Debbie owns 40% of the business. Kevin thinks it's an expensive bet that he's not going to take; he's out. Daymond doesn't like the losses or the fact that she has $1.4 million in the bank; he's out. Robert thinks she's the real deal, he offers $600,000 for 8%. Mark discusses the "Covid effect" driving sales; he's out. Debbie counters Robert with 4.5% plus a 1% advisory share, but Robert stands firm and Debbie accepts his deal.
Copper Cow Coffee Shark Tank Update
The Shark Tank Blog constantly provides updates and follow-ups about entrepreneurs who have appeared on the Shark Tank TV show. As of July, 2021, less than two months after the original air date, the deal has not closed with Robert. My gut tells me it won't, but it's too soon to tell. Not much else has changed, but annual revenue is up to $1 million.
The deal with Robert did fall through, but the products are available in over 3,000 stores, including Walmart, Sprouts Farmers Market and Whole Foods Markets nationwide. The coffee is also available in Hilton Hotels.  In May, 2021, the company closed an $8.5 million Series A round of funding led by Cultivian Sandbox, Arborview Capital, Siddhi Capital, Silverton Partners, Social Starts, Montage Ventures, CRCM, and Stormbreaker Ventures. This brings the total amount raised to $11.5 million.
The company added 13 new products, including new coffee flavors, creamers, and bundles of their bestselling flavors. They also are working with their Vietnamese farmers to reduce the amount of chemicals they use in their growing processes. The business continues to grow and now employs 15 people. As of June, 2023, annual revenue is $3 million.