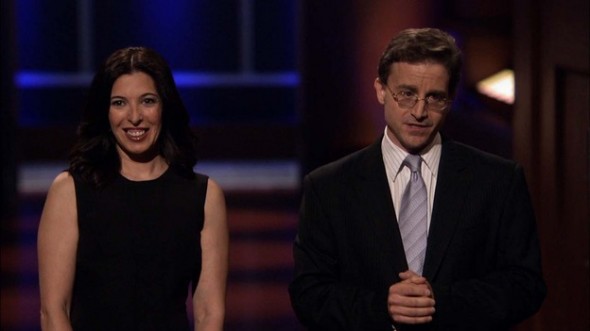 Debbie Brooks is a New York fashion designer who sells her high quality, hand-made line of handbags in jewelry stores and at trunk shows all over the east coast. Debbie Brooks handbags are all Italian leather and they're made in small lots. Debbie's bold designs have made her popular with celebrities like LL Cool Jay, Gwyneth Paltrow, Brittney Spears, Mariah Carey, and many more. Her husband,  Paul d'Auriac, handles the business side of things while Debbie concentrates on designs. The couple went into the Tank looking to open a Landmark Shop in New York and hoped to pitch to Barbara Corcoran.
Debbie Brooks in the Shark Tank
Debbie and Paul were asking $540K for a 20% share in their business. Barbara Corcoran was not on the panel, and that threw Debbie off. There was a lot of discussion about the Magnafab concept for Debbie's Handbags. Magnafabs are removable magnetic pieces of art that can switch out looks on a single handbag, allowing for many options without a lot of extra hand bag space. Debbie and Paul explained they've had much success selling in jewelry stores.
Kevin thinks the business is over valued and he goes out. Daymond is concerned about the patents, so he's out too. Mark likes the concept and the model of selling in jewelry stores; unfortunately for Debbie and Paul, he's not a "purse guy" and he's out. Robert is completely confused by the presentation and he's out. Lori thinks there are patent issues with the Magnafabs and she's out. Unfortunately for Debbie and Paul, there was too much focus on the Magnafabs and not enough on the entirety of the business; they leave the Shark Tank empty-handed.
Debbie Brooks Shark Tank Update
Despite the disappointment at not getting to pitch to Barbara, Debbie finds increasing sales after her appearance. During her many trunk shows, the Shark Tank exposure for her handbags leads to recognition for her brand and more celebrity orders. The Handbags are now widely available on Amazon. Debbie also used her new-found fame to help Hurricane Sandy victims in the aftermath of the storm. Despite not getting a deal, Debbie continues to grow her brand and her business!
Debbie continued growing her business through the years and as of August, 2023, she earns $5 million in annual revenue.
Posts about Debbie Brooks on Shark Tank Blog
Hurricane Sandy Victims helped by Debbie Brooks
Company Information