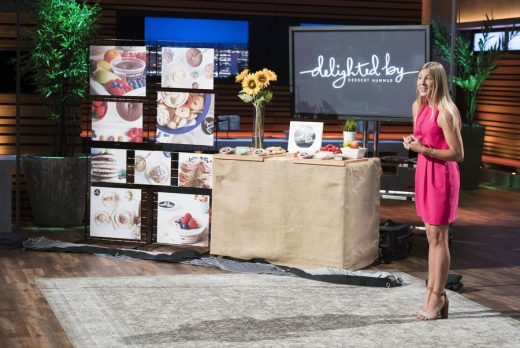 Makenzie Marzluff brings Delighted by Dessert Hummus, her chickpea based dessert hummus, in Shark Tank episode 901. With flavors like brownie batter, snickerdoodle, and vanilla bean, this isn't your grandfather's hummus.  Makenzie has a background in culinary arts. In 2015, she was doing some soul searching, trying to find a way to "spread her glitter." She was experimenting with dessert hummus and decided that was her life's work.
A few short weeks after that epiphany, she had product in her first farmer's market and she vowed Delighted by Dessert Hummus would be the first dessert hummus on national store shelves. She markets the gluten-free product as an alternative to sweet desserts like cookie dough and ice cream. You can dip pretzels, graham crackers or anything else you like in the dessert hummus, or just eat it with a spoon.
Her message is resonating with national retailers. Delighted by Dessert Hummus is in many Whole Foods, Walmart, Wegman's and it's rolling out in Publix and many other stores. The product will be in the hummus section of the store. Her dream of being the first national dessert hummus is quickly becoming a reality. She likely needs a Shark's know-how and cash to help her manage growth.
Will a Shark want to dine on this hummus?
Company Information
Video

Posts About Delighted by Dessert Hummus on Shark Tank Blog
Delighted by Dessert Hummus Shark Tank Recap
Makenzie enters seeking $600,000 for 12% of her business. She presents her pitch then hands out samples to the Sharks. They liked it. Mark said "This is so (bleep) good!" After she tells them how she got the idea for the product, Barbara wants to get down to business.
She launched the company 13 months ago and did over $1 million in sales. The Sharks are impressed. They're even more impressed when she tells them she's in 1200 stores. She got there by driving up and down the east coast calling on grocery stores in a refrigerated van. Mark actually calls her a "beast." All the buyers said she was the only one innovating in that space. She invested $20,000 of her own money and raised $400,000 at a $4 million valuation from friends and family. She projects sales for the current year (2017) at $1.3 million.
Ale doesn't like the valuation and he's the first Shark out. She tells the Shark she wants cash to hire operational support people like a VP of sales. After some discussion, Kevin offers $600,000 as a loan at 11% interest for 6% equity. Mark offers $600,000 for 25% equity. After thinking on it, she agrees.
Delighted by Dessert Hummus Shark Tank Update
The Shark Tank Blog constantly provides updates and follow-ups about entrepreneurs who have appeared on the Shark Tank TV show. The deal with Mark never closed. 2018 sales topped $5 million! Other hummus makers like Sabra and Boar's Head started making dessert hummus and I noticed shortly after that Delighted By was not in my local Publix (I was buying it regularly – it's very good).
In July, 2019, she began re-branding the line to Delighted By Desserts. She's letting existing inventory expire before doing a complete rebranding. As of May, 2021 the 2020 Covid-19 pandemic apparently set her relaunch back as her website states she'll be relaunching in the summer of 2021. In August, 2021, the website announced the company will sell only online starting in October, 2021. They began selling hummus brownies and mixes to make your own dessert hummus at home.
Apparently, MacKenzie was pushed out of the market by "big food" hummus makers. She claims her recipes were stolen and, while Wegman's and Whole Foods still wanted to carry her products, those sales didn't meet the manufacturing limits for her co-packer. That's why she sold her inventory out and switched to the online model.
As of June, 2022, the company Facebook page and website are both dark and the Twitter account hasn't been updated since September, 2020. It looks like the company is out of business. Mackenzie's LinkedIn states she's still the owner of the company, but she also co-founded Kakao Ceremonial Drinking Chocolate in 2017 and Request Bar in 2021.