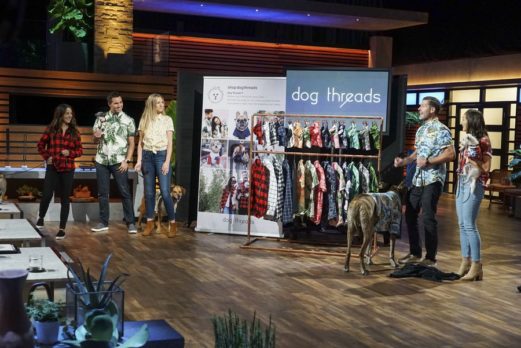 Scott and Gina Davis hope to dress up a deal for Dog Threads, their doggy clothing company, in Shark Tank episode 1109. Dog Threads doesn't just make clothes for dogs: if you're so inclined, you can get a matching shirt for both pooch and human. It all started back in 2014 when the Davis' were looking for a fun Hawaiian shirt for their dog to wear to their Fourth of July BBQ. When they couldn't find one, Gina – who has a background in clothing design – made one herself. That one shirt started it all.
Before long, making shirts for their dog became an obsession. Soon, he had more shirts than Scott! People started asking about them and, on Black Friday 2014, they decided to launch an online store. They called it Dog Threads. The couple wanted to give back and have an ethically grounded business. They donate a portion of all sales to animal shelters, they use local seamstresses and pay them well and they make dog beds out of all their scrap fabric for local animal rescue shelters.
Dog Threads come in a wide variety of styles. Hawaiian shirts run $38 for dog shirts to $68 for a matching human shirt. They also have sweaters for dogs from $38-$48, tee shirts for dogs for $38-$50 and a variety of accessories. You can find bargains on the sale page, too. The business has taken the Minneapolis area by storm and now they'd like to go national. Will a Shark want to invest in these threads?
Company Information
Video

Posts about Dog Threads on Shark Tank Blog
DogThreads Matching Shirts for Dogs and People
Dog Threads Shark Tank Recap
Scott and Gina enter the Tank seeking $250,000 for 17% of their business. They explain tghe business and show of the shirts as the Sharks chuckle at the concept. They want a Shark to help them scale the business. The Sharks like their sales: on track for $240,000 for the year. They LOVE that the Davis' only invested $500 to start the company.
Mark likes the shirts and sees an opportunity for licensing. He offers $250,000 for 30%. Kevin expresses interest too, but Mark tells Scott and Gina he'll withdraw his offer if they talk to Kevin. They counter Mark with 25% and he agrees.
Dog Threads Shark Tank Update
The Shark Tank Blog constantly provides updates and follow-ups about entrepreneurs who have appeared on the Shark Tank TV show. This deal did not close with Mark. The company is still in business as of June, 2021.