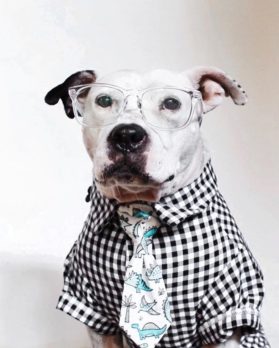 DogThreads let you and your pooch wear matching outfits. Yes, you read that right. Now, when you take your dog out and about, you can coordinate your wardrobe with your dog. That was the big idea Scott and Gina Davis had back in 2014. Scott wanted to have a matching Hawaiian shirt for he and his dog for a Fourth of july barbecue party they were throwing. He couldn't find such a thing, so Gina sewed them all matching shirts. The rest, as they say, is history.
Whenever Scott, Gina and their dog, Thomas, went out in their matching shirts, people took notice. They wanted pictures and they wanted matching outfits for themselves. By November of 2014, the Davis' had an online store set up and they were making dog and people shirts. They use American made materials and local seamstresses from Minneapolis.
Since then, they've added sweaters, Tee shirts and even flannel shirts (they live in Minnesota so flannel is a thing). Dressing up your dog in DogThreads doesn't come cheap. Shirts run $38-$60 each. People DID spend $200 million on dog clothing last year, so the Davis's may be on to something. They do all their business online, but this seems to be a business that lends itself to a direct to consumer approach. Perhaps they want a Shark to help them ramp up sales.
My Take on DogThreads
I'm generally not a fan of putting clothes on dogs. I think the dogs don't like it. My dog is a 70 pound American Bulldog that looks something like the dog in the photo at the top of this post. I never dressed her up, but my daughter has – only for a short time though.
Despite my misgivings about dressing up dogs, I think my Zoey would look pretty cool in a Hawaiian shirt! We go out and about quite a bit and she always attracts attention because she's so cute and well mannered. It would be a hoot to go for a walk downtown in matching shirts. I wouldn't dress her up all the time, but every once in a while would be fun.
Do Sharks like These Threads?
In the video preview of this episode, Scott says DogThreads is a "hobby business." While the quote may be out of context, the Sharks generally don't like comments like that. Good sales will be a harbinger of whether they get a deal or not (it usually is), but when an entrepreneur doesn't appear "all in" to the Sharks, it could spell trouble.
I don't think Mark, Lori or Kevin will go in on this one. Daymond, the clothing guy, might have interest, but he's been burned by pet businesses in the past. That leaves Robert. He's a dog lover and he's had success with online apparel sales (Buttercloth and Tipsy Elves come to mind). If he gets a good value, he could partner with DogThreads and turn it into a cool, niche brand. If Robert isn't interested, Scott and Gina are out of luck.