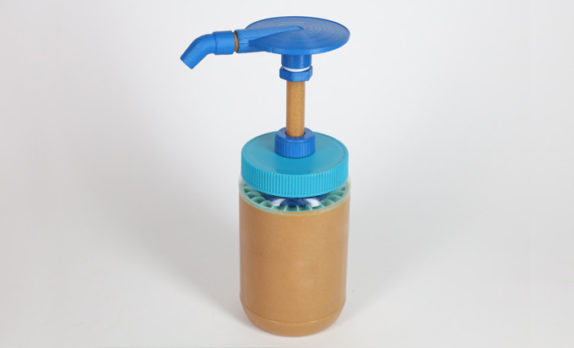 What else would an out of work financial analyst invent other than The Peanut Butter Pump? That's what Andy Scherer did. He suddenly "had a lot of time on his hands" after getting let go from his position as a mergers and acquisitions specialist for a big financial firm. Andy likes peanut butter sandwiches, but hates it when the peanut butter knife shreds the bread when spreading it on. He also hated the waste. Since he liked peanut butter, he decided to tackle the problem of getting every last bit of the stuff out of a jar.
So he went out and raised almost $135,000 on IndieGoGo to get his invention built. The Peanut Butter Pump is just what it sounds like. It's a heavy duty pump with a sliding suction seal that evenly distributes peanut butter on a piece of bread, a measuring cup or in a smoothie. The pump's lid fits on "most standard 40 ounce peanut butter jars." While he has over 3200 backers, he still hasn't delivered the final product.
The Peanut butter Pump is in the early stages of production. Despite funding on IndieGoGo in April, 2019, by October 2019, tooling hadn't started. He looks to get his product delivered in early 2020 if everything goes well with his factory in Taiwan. Even with the delays, his backers aren't dismayed – he's been very forthright with his updates. Crowdfunding backers expect delays, what they won't tolerate is a lack of transparency.
Seeing as manufacturing is Andy's biggest challenge, this is likely what he wants a Shark's help with. There are a few Sharks who'd add value, but will any of them want to pump up a deal for this invention?
My Take on The Peanut Butter Pump
I like peanut butter. I have a spoonful or two every day as a quick snack. Sometimes, I'll mix a little peanut butter into some Ramen Noodles with sriracha sauce for some quick spicy peanut noodles.  I don't do too many PBJs anymore, but we always have peanut butter on hand.
Dispensing peanut butter has never been a big problem or concern for me. I understand that I just can't get every bit of peanut butter out of a jar. One trick I use is when I'm at the end of a jar, I'll pour in some vinegar to thin it out and I make a peanut butter barbecue sauce.
I have a couple of issues with this product. I think it would clog up easily. Scherer says you can pump chunky peanut butter through it, but I think some product would dry in the tubes and cause clogs – chunky or smooth. I also question the overall necessity of the product. I know 3200 some odd people think it's a great idea, but spreading peanut butter has never been a big problem or concern of mine.
Are the Sharks Pumped?
The video preview of this pitch indicates it could be a real train wreck. I think Mr. Wonderful tells Scherer to "take this behind the barn and shoot it." That's never a good indication of a positive outcome. I believe the Sharks have the same concerns as I do and they won't be bidding.