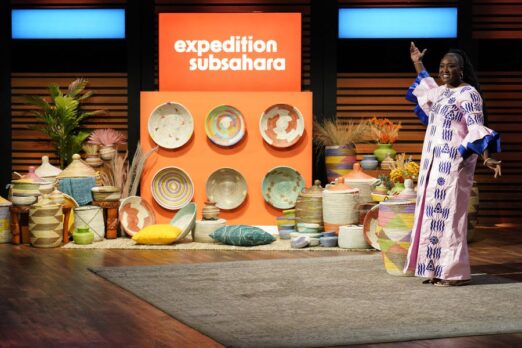 Sofi Seck hopes to snag a Shark investor for Expedition Subsahara, her baskets hand made in Senegal, Africa, in Shark Tank episode 1404. Sofi was born in Senegal, West Africa as a member of the Wolof tribe. Part of her culture was basket weaving which provided a communal activity for tribeswomen and a way to earn money as well. Sofi came to America at age 14 to get an education and she ended up graduating from the University of Missouri in 2009. She worked as a professional photographer out of college and still lists that business as a going concern.
She started the company in 2017. After an unsuccessful Kickstarter campaign, the person she founded the business with stepped away from it and Sofi was on her own. Now, she and a small team weave the baskets at The Foundry, an artists collective in St. Louis. They also employ around 120 Senegalese women in Africa. Each basket is hand made from sweetgrass and colorful fibers. Some of the larger baskets used as hampers can take over 40 hours to make!
There are dozens of baskets, coasters, necklaces and other hand woven items on the company's website. Prices range from $29 for small items to over $200 for larger baskets. Sofi has a mission for her business too. She is setting aside 20% of her proceeds or $50,000 per year (whichever is greater) to build a STEAM (Science, Technology, Engineering, Arts, Math) school for girls in her native Senegal. Sofi's faced challenges getting her business off the ground, she'd like a Shark's help getting to the next level.
Company Information
Video

Posts about Expedition SubSahara on Shark Tank Blog
Expedition Sub Sahara – African Inspired Baskets
Expedition SubSahara Shark Tank Recap
Sofi enters the Shark Tank seeking $500,000 for 10% of her company. She tells the Sharks that weaving is taught generationally in her tribe. Her native Senegal is full of joy, color and brimming with abundance and she didn't like how Americans viewed Africa as impoverished. Her baskets are all hand woven in Senegal. She wants to give every home a dose of joy, color and culture with her baskets. She also talks about giving back to her homeland and says even though she's among Sharks, she's a lion.
The Sharks examine their sample baskets. Each basket has a purpose like hampers. They're made from grasses and recycled plastics. Robert asks what his basket costs. It's $18 landed and sells for $50. She sell 95% online and year to date (2022) sales are $900,000. Lifetime sales are $3.6 million. 2021 sales were $1.6 million and they made $1 million in gross profits and $75,000 in net profits because she's plowing money back into the business. Average margins are 60%.
In 2019, she only had $75,000 in sales. From March, 2020 through May, 2020, she did $45,000 in sales. After the murder of George Floyd, there was a lot of uplift from Black Lives Matter. She brought in 120 weavers and expanded quickly, which ate into margins. She pays her weavers by the hour. Master weavers teach younger weavers the craft. The company doesn't pay per piece because it's always been done that way and it hasn't helped her community.
In 2021, she spent $400,000 in advertising. Last month, she did $160,000 in sales. The average sale is $206 and customer acquisition is $106 per customer. She's barely breaking even. She wants the baskets in retail and the Sharks don't like that idea.
Who's In?
Kevin says she's losing money and going into retail will tie up a ton of capital; he's out. Lori likes the baskets and the mission, but not the valuation; she's out. Sofi started the business with $500 and she has no debt. Mark thinks she can operate as a sole proprietor; he's out. Robert says she wants the Sharks to bet on the business and Sofi says "bet on me." Robert thinks she'll make it but he doesn't see the return; he's out. Daymond says people who change the world don't accept the way things have always been done, but he's out anyway.
Expedition SubSahara Shark Tank Update
The Shark Tank Blog constantly provides updates and follow-ups about entrepreneurs who have appeared on the Shark Tank TV show. Sofi said sales reached "record amounts" after the initial air date. Several people approached her seeking to invest in her company after seeing her on Shark Tank, but Sofi wants to see how things shake out after appearing on the show first. She wants to build a girl's school in her weaving community in Senegal in the future.
The Shark Tank Blog will follow-up on Expedition SubSahara & Sofi Seck as more details become available.