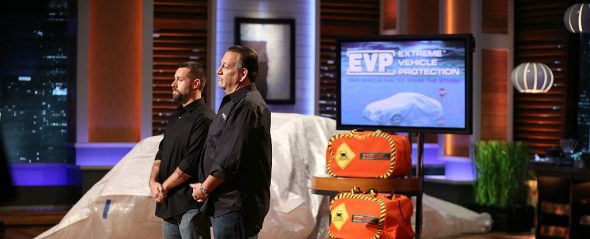 Matthew Harris and Kenny Lerner hope to zip up a deal for Extreme Vehicle Protection, their line of vehicle and storage protection bags, in Shark Tank episode 722. Harris and Lerner claim their product can protect cars from floods in water up to three feet deep. They also have covers that store everything from outdoor furniture to snowblowers.
Essentially, the Extreme Vehicle Protection bags are giant, heavy-duty, baggies that you literally drive your car into. Once the bag is sealed, the material protects vehicles from extreme winds and rising waters. There isn't much information on the business itself, other than it's relatively new (2015).
The car bags sell for $249-$349, depending on the vehicle size, and are only available on the company website. They are actively seeking wholesale accounts. Harris and Lerner likely want a Shark to help them with distribution agreements. Will a Shark put this business into their investment bag?
Extreme Vehicle Protection Shark Tank Recap
Matthew and Kenny come into the Tank requesting an investment of $50,000 in return for 20% equity. The valuation may interest the Sharks, but it will require a solid business model and previous sales to cement a deal.
The pair explains the concept of EVP, and ask Robert to drive their demo car into the EVP.
"So, it's basically a Ziploc bag for your car," said Kevin O'Leary.
Robert Herjavec says that, as a car guy, he owns a product that has a similar application. The entrepreneurs respond that the product Robert owns requires electricity and more than one person to set up.
The Sharks want to know about the sales. Kenny responds that they've sold 150 of their EVPs so far, through car shows, body shops, and other venues. The sales are not strong, and this might be a serious challenge for these guys.
Mark Cuban sees EVP as a "very nice business" but doesn't believe it has growth potential. He's out.
Robert Herjavec doesn't think that people "think of their cars" in emergency situations like floods and hurricanes. Saving their cars in an emergency "will be the last thing on their minds." He likes the idea and the business, but he's out.
Lori Greiner is "not a car enthusiast," and doesn't like the packaging. She's out.
Kevin O'Leary offers a royalty deal. He's willing to offer $50,000 to help the pair build inventory and sales, and wants $30 per unit in perpetuity. He offers a sales platform- social media and his team.
Daymond John makes a counter offer. He's willing to take 1/3 of the company for $50,000, with a similar sales platform.
The pair question whether Kevin's deal has any limits. He considers, before offering a solution – his royalty deal would end when it reaches 1,000 units.
Daymond John argues that they need "a real partner," someone with "skin in the game."
The pair accepts Daymond's offer. Kenny says to Kevin O'Leary "I appreciate your offer, but I'm goin' with Brooklyn."
RESULT: DEAL with Daymond for $50K for 33.3%
Extreme Vehicle Protection Shark Tank Update
The Shark Tank Blog constantly provides updates and follow-ups about entrepreneurs who have appeared on the Shark Tank TV show. Once an episode has aired, we monitor the progress of the businesses featured, whether they receive funding or not and report on their progress.
The EVP team is experiencing the benefits of the Shark Tank effect, with interest being generated on social media. Buzzfeed included the company as one of the "best Shark Tank products," creating a new wave of interest. Since the bags are 100% recyclable, the product has received good ratings in most media.
Stay tuned to learn if EVP turns out to be an excellent investment for Daymond John in the future. Looks to us as if he's bagged a profitable deal.
Looking back from 2021, the company has added many new products, including windshield hail protection covers, equipment storage, furniture storage and more. As of July, 2022, the company website is dark, but social media is current to March, 2022. The products are also still available on Amazon. As of September, 2022, this status remains unchanged. The Shark Tank Blog will update this page as more information becomes available.
Posts About Extreme Vehicle Protection on Shark Tank Blog
Interview with Matthew Harris of EVP
Extreme Vehicle Protection Company Information
Video