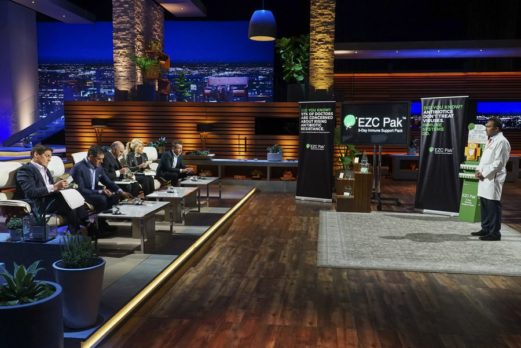 Sarath Malepati hopes to procure an investment for EZC Pak, his natural alternative to antibiotics, in Shark Tank episode 1107. Malepati is an MD who's also the medical director of The PPC Group, "a Los Angeles, California-based health product team" that develops and implements solutions for common healthcare problems. In his medical practice, the good doctor noticed his patients developing resistance to antibiotics.
Antibiotics have been extremely over prescribed over the past 20-30 years. The result is the development of "super bugs" that traditional antibiotics won't cure. The World Health Organization calls antibiotic resistance "an increasingly serious threat to global public health that requires action across all government sectors and society." Malepati wanted to address this very serious problem, so he and his team created EZ C Pak.
The EZC Pak is a supplement pack that nutritionally supports the immune system. When a patient "needs" an antibiotic, their doctor can give them the supplements and see if it works over a period of five days. This would eliminate the overprescribing of antibiotics for routine things like colds and minor respiratory infections. Each pack consists of  an "E capsule," made of certified organic Echinacea, and one "ZC capsule," which contains zinc and vitamin C. While the supplements cannot replace antibiotics in the case of serious infection, it can help the body fight minor ones without antibiotics.
EZC Pak costs fifteen bucks for a 28 capsule package. It's available on Amazon and at CVS and independent pharmacies nationwide. Malepati likely wants a Shark to help with scaling rapid growth. Will a Shark want to supplement their portfolio with this product?
Company Information
Video

Posts about EZC Pak on Shark Tank Blog
EZ C Pak – Natural Antibiotic Alternative
EZC Pak Shark Tank Recap
Sarath enters and introduces himself. He starts talking about the crisis of viruses becoming stronger due to overuse of antibiotics. His product strengthens the immune system. He's seeking $125,000 for 5% of his business. Lori asks for samples and he hands them out. The Sharks like the packaging. Over the past ten years, he's been treating complex infections. He says health care has become too consumer driven.
Mark disagrees, he says family history is important. The Dr. says that has nothing to do with what he's talking about. Lori has been talking about the overuse of antibiotics for a while. She's into natural products and she starts thinking the Dr. is disrespecting her; she's out. The doctor says she's a positive person – she still feels disrespected and accuses him of chauvinism.
Kevin wants to know sales. Last year (2018) he did $1.2 million with $850,000 gross profits and minus $150 net profits. The reason for the negative is he spent $750,000 in marketing. He starts explaining about formulations and Robert goes out. His basic product sells for $15.99-$19.99 and has 80% margins. Last year he was in 9000 retail locations. Daniel goes out because he doesn't see the connection.
Kevin likes the margins, he offers $125,000 for 5% plus a 60 cent royalty. He counters with $1 per unit royalty that closes in 36 months. Kevin asks what about getting his money back. The doctor says he's going to move 200,000 units this year. Kevin says he'll do the doctor's deal for a $1 royalty until he gets $500,000 back. The doctor counters with $400,000 and Kevin says he'll do $450,000. They do the deal.
EZC Pak Shark Tank Update
The Shark Tank Blog constantly provides updates and follow-ups about entrepreneurs who have appeared on the Shark Tank TV show. The deal with Kevin never closed and Dr. Malepati is probably happy it didn't. This episode aired in November, 2019, just months before the Covid-19 pandemic hit.
In 2020, when it did, online sales of EZC Pak rose 850% online and 300% over all during the pandemic. He also introduced EZC Pak+D, his vitamin D product, which also sold well. In a press release about the meteoric rise in sales, Malepati said, "Antibiotics still don't treat viruses. Yet antibiotic abuse has been extremely high this year. Superbugs are going to continue to be a problem both in healthcare facilities and the community for as long as bad medicine and bad healthcare continues to be our chosen path. These are complex problems that require humility, collaboration, and a long term outlook to solve. We have yet to reach that point."
As of February, 2023, the company is in every CVS store, Davidson Drugs, and hundreds of independent pharmacies as well as grocery store chains like Market Basket. Annual revenues are $4 million.