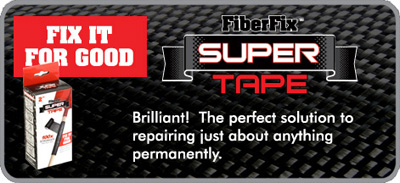 Spencer Quinn and Eric Child pitch FiberFix in Shark Tank episode 509 on October 25, 2013. Their invention, FiberFix, is a super-strong repair tape that's 100 times stronger than duct tape. FiberFix fixes just about anything from leaky pipes to broken bikes. Quinn and Childs created FiberFix to have a simple repair product that was as easy to use as duct tape and as strong as the strongest epoxy – without all the mess. Fiber Fix is water proof, cold and heat-resistant, non-toxic, and it dries in minutes. It's a product that will fundamentally change how people repair stuff.
FiberFix has a video that has that "As Seen on TV" feel to it and it is currently selling on Amazon. This looks like a product that is ready to explode in the marketplace if it can do everything it claims it can. Quinn and Childs are probably looking to the Sharks for help with mass distribution and possibly infomercial production.
FiberFix Shark Tank Recap
Spencer and Eric enter seeking $90K for 10% of their company. They immediately did a demo with a hammer made from two by fours breaking a cinder block to demonstrate the strength of Fiber Fix. Then they listed all the uses for FiberFix, claiming the "super tape" allows people to fix things that couldn't be fixed before. They handed samples to the Sharks and told the Sharks they've sold over $100K in the past few months.
It's a resin reinforced with fiber tape that's a brand new product. They make it for $2 a roll, wholesale it for $4 and retail it for $7.99. They just got set up as a vendor with Home Depot, too. The Sharks are impressed. Mr. Wonderful makes an offer of $90K with a 70 cent per-unit royalty until the $90K is paid back and 20 cents in perpetuity. Robert scoffs at the offer and says he'll do $90K for 10% and says his best friend owns a hardware distribution company.
Then Spencer and Eric announce they're signed with QVC. Daymond goes out because he has a deal with HSN. Lori then offers $250K for 18% and says QVC with her has greater value. She also wants to produce an infomercial. Robert says most men buy in hardware stores as Lori and Kevin squabble and Kevin says any Shark can produce an infomercial.
Kevin says FiberFix isn't costume jewelry or a sponge. Robert wants to know what's missing from his offer, then adjusts his offer to extend a $250K line of credit. Then the guys step into the hall. While they're gone, Mark tells the other Sharks the business is under priced. Lori says women would buy it on QVC for their husbands.
The guys come back and counter Lori with $120K for 12% with a $2 million line of credit. Lori shrugs and Daymond rolls his eyes. Mark says they're blowing it and scolds them for under pricing their company. He says they made a strategic mistake and for that reason he goes out. They say they didn't consider Kevin's offer, and they tell Robert they'd like a larger line of credit. Lori says she'd do $120K for 12% but with no specific line of credit.
Fiber Fix needs the credit line for purchase order financing. Robert thinks they need to be in retail before doing infomercials and QVC, he goes out. Lori agrees to $120K for 12% as long as she funds all purchase orders. They do the deal with Lori.
FiberFix Shark Tank Update
The FiberFix team has been hard at work. They set up a call center to call on independent hardware stores and they are selling like crazy. Shark Tank Blog did an update interview with Eric Child from FiberFix and they have an update segment airing in episode 523.
The update segment features their warehouse and their relationship with Ace Hardware. In October, 2018, Lori exited her dealings with this company when it was acquired for an undisclosed amount by J-B Weld, the market leader in consumer DIY adhesives. As of March, 2022, you'd be hard pressed to find a store that doesn't carry Fiber Fix. Now called FiberWeld, they're in over 50,000 retail locations, including Home Depot, Walmart, O'Reilly's Auto Parts, Lowe's, AutoZone, ACE, Advance Auto Parts, True Value and Amazon.
Child operates Spark Innovations, LLC, a company that acquires and develops consumer product brands and launches them into retail. The company owns several Shark Tank brands including Wall RX, ScreenMend and Illumibowl.
Posts About FiberFix on Shark Tank Blog
Fiberfix Update Interview – Eric Child
FiberFix Information
Video: