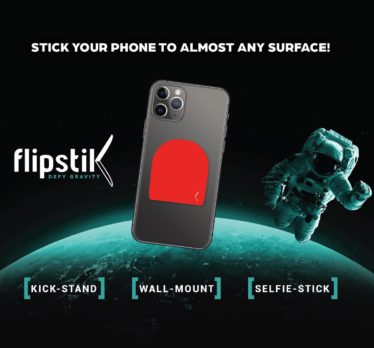 Akeem Shannon wants a Shark to flip over Flipstik, his smartphone kickstand that adheres to almost any surface, in episode 1205. Akeem was a chemical engineering student at Howard University, but he lost his full scholarship. After coming home to St. Louis, he got a job with Square, a mobile payment processing company. While there, he was in contact with a lot of small businesses and his entrepreneurial itch began to grow.
One night, he was speaking with his uncle, a NASA engineer, and he learned about a "Synthetic Setae" adhesive NASA developed in the 70's. The adhesive acts like gecko hairs and lets it tick to virtually any surface. Akeem make a smartphone kickstand that incorporated this material and lets you stick your phone onto anything.
Akeem got Flipstick going with a Kickstarter campaign that raised $10,310 back in 2018. Since then, he's done over $100,000 in sales and he won the 2019 CES Retail Pitch competition. The folding kickstand sticks to the back of any smart phone when you open the stand, the adhesive material is exposed. It retains adhesion for over 1000 uses and when it becomes less sticky, simply rinse it under hot water to reactivate the adhesive.
A Flipstik costs $15 and comes in dozens of styles and colors. They're currently available at kiosks in the St. Louis area and at various fairs that Akeem attends (when not during Covid-19 lockdown). He'd like to get his patented product nationwide distribution and he hopes a Shark will help. Will the Sharks flip over Flipstick?
Company Information
Video

Posts about Flipstik on Shark Tank Blog
Flip Stik Sticks Your Phone to Anything
Flipstik Shark Tank Recap
Akeem enters seeking $100,000 for 20% of his business. His initial pitch is a self-written rap that entertains the Sharks. He demonstrates the product and what it can do and hands out samples. While the Sharks were entertained by his pitch, they did not like his sales: $115,000 over the last 30 months and just $1,500 in the last month. He attributes the poor sales to the Covid-19 pandemic as most of his sales are in retail outlets. As a result, he wants help driving direct to consumer sales.
While sales are slim, the margins are huge. Each product costs 58 cents to make and they sell for $15. That's enough to get Kevin's interest. He offers Akeem what he asked for: $100,000 for 20%. Lori jumps in and offers $100,000 for 25% and really sells her expertise for "visual" products. Mark seems to want to jump in too, but Akeem accepts her offer.
Flipstik Shark Tank Update
The Shark Tank Blog constantly provides updates and follow-ups about entrepreneurs who have appeared on the Shark Tank TV show. In the two months since this episode aired, Lori has not put Flip Stik on her Shark Tank website. That could mean the deal didn't close or it is still in negotiations. Either way, it's still too soon to tell. In the week following the initial air date, the company doubled its lifetime sales and added another $100,000 in sales through the holiday season.
As of July, 2021, it appears the deal with Lori did not close. Akeem finally got his product on Amazon, where it is selling briskly. After appearing on the show, Akeem won two $50,000 awards. The first was a $50,000 grant from St. Louis are nonprofit Arch Grants. The second was $50,000 in equity-free funding from the inaugural cohort of UMSL Accelerate's Diversity, Equity and Inclusion Accelerator. Akeem is in negotiations with "undisclosed, major retailers" that should get him into several hundred retail locations in Q4 2021 or Q1 2022. As of January, 2022, the retail deal has not closed.
In April, 2022, Flipstik rolled out in 300 Target stores around the USA. In the summer of 2022, the products will be in AT&T stores and Pilot Flying J travel centers across the country. In October, 2022, Akeem was voted Entrepreneur of the  Year at the UMSL Accelerate Entrepreneur of the Year Awards. In December, 2022, the company raised $1.15 million from a variety of investors including Build-A-Bear Workshop founder and former CEO Maxine Clark and others. He's using the funds to strengthen his marketing capabilities. The company plans on introducing new products in Q1, 2023. Annual revenue is at $5 million and should grow with broader distribution.