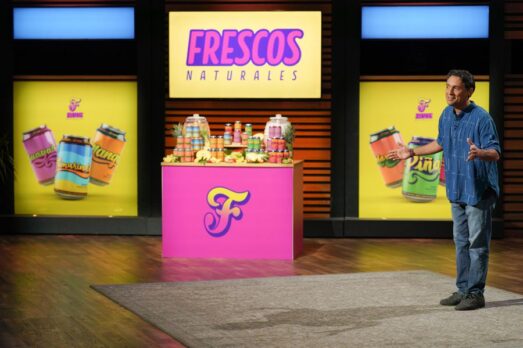 Juan Stewart gives the Sharks a taste of Frescos Naturales, his line of Latino inspired sparkling drinks, in Shark Tank episode 1412. Stewart, who grew up in La Antigua, Guatemala, was always drinking rosa de jamaica as a child. In 2018, his son, after downing a fresh batch, said "you should bottle this stuff." so he set out to do just that. It's not Stewart's first venture. In 2014 he started Green Belly Foods which sells a line of Guatemalan hot sauces. He also owns a chili exporting business in Guatamala.
In 2018, heeding his son's advice, Stewart set out to get Frescos Naturales going. He funded the start up with profits from Green Belly, but some obstacles got in his way. First, his son developed a rare bone cancer which required chemotherapy and then the Covid-19 pandemic hit. He finally launched in January, 2021 and got his first sales by cold calling on small shops. Sales took off after he got a lot of exposure when he won Naturally Boulder's 17th Annual Pitch Slam Contest in October, 2021. In September, 2022, he won the Natural Products Expo East Pitch Slam's Audience Choice award at the Philadelphia Convention Center.
There are six flavors, all in Spanish: Guayaba – Sparkling Guava Drink, Mango – Sparkling Mango Drink, Maracuya – Sparkling Passion Fruit Drink, Pina – Sparkling Pineapple Drink, Rosa de Jamaica – Sparkling Hibiscus Drink, and Tamarindo – Sparkling Tamarind Drink. A six pack costs $19.99. He sells direct to consumer and in a bunch of small mom and pop cafes and stores in Colorado. He likely wants a Shark's help getting into major grocery chains.
Company Information
Video

Posts about Frescos Naturales on Shark Tank Blog
Frescos Naturale Sparkling Drinks
Frescos Naturales Shark Tank Recap
Juan enters seeking $130,000 for 8% of his business. He talks about how Latin American foods have become part of the food culture in the US, but not so much in the beverage space. Continuing, he talks about how Latin American families make their own Frescos with low sugar. He says his products are the first and best frescos the Sharks have had in their lives.
The Sharks try their samples and like them. A can has around 60 calories. Juan tells about his background and how his son encouraged him to can the drinks. He also tells the Sharks about his other company. He says he got accepted into Kroger recently and he's in 130 King Sooper stores and 230 Ralph's stores. 2021 sales were $182,000. Midway through 2022, he's at $100,000 and he's projecting $330,000-$350,000 in sales for the year. He's projecting $850,000 for 2023.It costs 88 cents per can to make and he sells it at $2.10 wholesale. Some stores sell it for $4.50 but Juan would like to get the retail price down to $2.99. Competing beverages sell for $3.99.
Daymond thinks the drinks are good but he doesn't see how he could help; he's out. Kevin has seen a lot of beverage pitches and he believes in the niche Juan has but he's out. Mark hates the beverage business; he's out. Lori thinks it's challenging and competitive; she's out. Daniel says Juan is mezmorizing and he likes his energy. Juan talks about how he pushed through his soon's cancer diagnosis. Daniel thinks he'll figure it out and says if he can convince another Shark, Daniel will join them. Mr. Wonderful says he'll offer $130,000 for 30%, 15% for Daniel and 15% for him. Juan says his limit is 20% then counters Daniel at $130,000 for 25% if Daniel will offer inventory financing. Daniel says he can't guarentee the financing. Juan thinks and takes the deal.
Frescos Naturales Shark Tank Update
The Shark Tank Blog constantly provides updates and follow-ups about entrepreneurs who have appeared on the Shark Tank TV show. The first rerun of this episode is 2 months after the original air date and there is no evidence the deal with Daniel has closed. As of July, 2023, the deal still hasn't closed.
The Shark Tank Blog will follow-up on Frescos Naturales & Juan Stewart as more details become available.