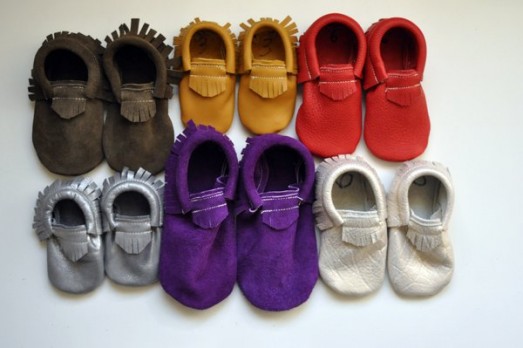 Susan Peterson pitches a line of baby moccasins, called Freshly Picked, in Shark Tank episode 518 on January 24. She started her business in 2009 by sewing together scraps of leather while on a quest to create baby shoes that were comfortable, looked good, and stayed on her child's feet. The first designs were primitive, but she kept tweaking and ended up with Freshly Picked.
Peterson sells Freshly Picked baby moccasins on her website and she has some famous customers: Kourtney Khardashian bought some for her son. Susan financed Freshly Picked with $200 from salvaging scrap aluminum from discarded windows, so she knows how to make the most of her resources. That's a quality the Sharks like.
She's likely seeking seed money to expand and a partner to help get onto retail store shelves.
Freshly Picked Shark Tank Recap
Susan comes into the Tank looking for a $150,000 investment in return for 10% of Freshly Picked. She explains how she worked through six designs before settling on the final version. She passes out pairs to the Sharks to examine. They get to the bottom line, with Robert Herjavec asking about sales.
Susan has sold $500,000 in the current year, a number that gets the Sharks asking more questions. Kevin O'Leary wants to know how many pairs her most active buyer has purchased. With a strong market, Susan has a good chance of landing a Shark deal. She explains that 50% of her customers come back and purchase at least three more pairs.
She tells her story, how she started the company with $200 that she earned by scrapping aluminum from her brother's replacement window business. Mark Cuban actually applauds, saying it's the "best story" he's ever heard. "You personify the American Dream," he tells her. She has earned his respect, but he doesn't know the baby shoes market, and he goes out.
Robert Herjavec doesn't think he can "add" to the business. He's out.
Lori Greiner believes Susan can make the business work on her own. She's out.
Kevin O'Leary makes an offer for $75,000, in return for a 10% royalty, which would drop to 5% when he earns his investment back. He asks Daymond John to come in to make up the rest of the investment. John counter-offers with $150,000 for 25%. Susan says John is her "dream Shark," and counter offers $150,000 for 20%. John refuses to budge. After a few moments' hesitation, Susan accepts the offer and gets her Shark deal.
Freshly Picked Shark Tank Update
Susan's deal with Daymond John fell through after her appearance, but the Shark Tank effect had already taken hold. In three years, her sales went from $120,000 to $5.4 million. Her staff has grown to 12. She's gained a following among celebrity moms, including Kim Kardashian and Jessica Alba.
Susan has gone from earning money by scrapping the aluminum from old window frames to drawing a paycheck of over $10,000 a month from her business. It seems as if business is the shoe that fits for Susan, and she's wearing it all the way to the bank.
As the years went on, Susan continued to grow the business. There are now moccasins with soles for older children, sneakers, diaper bags, luggage, sandals and there's even a Disney Collection. As of January, 2023, this business is going strong with revenue of $14 million per year.
Posts About Freshly Picked on Shark Tank Blog
Freshly Picked Information