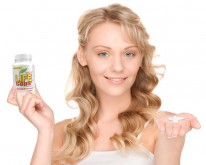 Entrepreneur Daryl Stevenett introduces LifeCaps, a food substitute pill, in Shark Tank episode 518 on January 24. LifeCaps contain all the vitamins and minerals necessary for the body to survive in a tiny capsule. If you were caught in the wilderness with no food, you could sustain yourself with nothing more than LifeCaps and water for days, or even weeks. Stevenett actually "lived" on LifeCaps for over two weeks to demonstrate the product's effectiveness.
The ingredients in LifeCaps are all-natural and the pills contain no stimulants. The formula allows your body to maintain itself by drawing nutrients from stored fat in the body. They are not a diet pill, it was designed to be a survival pill for emergency use. They're safe for all ages, too. Drinking plenty of water is key in any survival situation, the same holds true with LifeCaps. Stevenett has several "life-saving" testimonials on the company website that demonstrate its real-life effectiveness. He hopes his product will find its way into every backpack, glove compartment, and home so people won't be caught in a life threatening situation due to a catastrophe that cuts off food supplies.
He's likely looking to the Sharks to help with mass distribution.
LifeCaps Shark Tank Recap
Daryl is requesting $200,000 for 30% of the company. He explains to the Sharks that he has not eaten in 8 days. He's been living on his own LifeCaps for over a week. His background was in music, but he had a contact who was involved in creating energy bars, who helped him develop his idea for a "survival pill" into what became LifeCaps.
Daryl hands out samples of the product to the Sharks. Mark Cuban refuses to try them. He's notoriously against any type of "miracle" pill, especially anything related to diet. Daryl claims that he is not presenting LifeCaps as a diet pill. He's plugging it as a survival tool. He's sold $400,000 in the past 5 years.
Mark Cuban calls the pills "snake oil," claiming that Daryl is selling a diet pill without calling it a diet pill. He's out "with prejudice."
Lori Greiner talks about responsibility, and calls Daryl out for not having done clinical trials with so many sales. She's out.
Robert Herjavec agrees with Greiner, calling the product "irresponsible," because regardless of the marketing message, Daryl claims to lose a pound a day while on the LifeCaps, and "people want shortcuts." He believes consumers will see the LifeCaps as a diet pill, and he's out.
Daymond John says that without clinical trials for safety, he's not interested. He's out.
Kevin O'Leary can't see how he'll make any money off the product. As a "survival" pill, it's designed to "sit on a shelf until the zombies come." He doesn't believe there will be an ongoing market, and he goes out.
All the Sharks are out, and Daryl leaves the stage without a Shark deal.
LifeCaps Shark Tank Update
Although turned down by the Sharks, Daryl tells them he appreciates "everything they do for people," and that it's and "honor" to meet them. Although he wasn't able to strike a deal, he has gone on selling his LifeCaps through Amazon and other online retailers.
The reviews on Amazon are mixed. Several outdoor enthusiasts report experimenting with the pills, and finding them effective, while others report that they do not "curb hunger," implying they are not effective as a diet tool.
Without clinical trials and medical proof to back up the effectiveness and safety of something like LifeCaps, Daryl had almost no chance going in of making a sale. He needed the security of clinical trials to back up his claims of safety and effectiveness. Daryl also needed more information on potential markets- the armed forces, for example, might consider a product like this for field emergency kits, if the product were proven safe and effective. He also needed a proven distribution network and even sales contracts.
Without any of those things backing up his claims, he was not able to convince the Sharks to swallow his LifeCaps. As of August, 2021, the products are no longer on Amazon and the website is down. It looks like the company is out of business. In 2021, REJ Diamond Pharmaceutical bought the naming rights to the brand. On the company's website, they say they are almost ready to release LifeCaps2, but as of April, 2023, all products are "sold out."
Posts About LifeCaps on Shark Tank Blog
LifeCaps Information