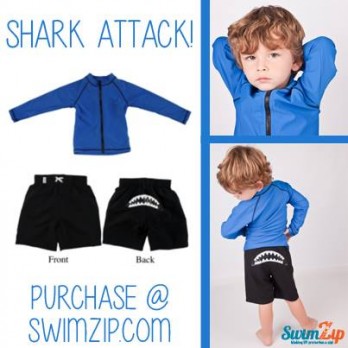 SwimZip founder Betsy Johnson and her brother, Berry Wanless, pitch their UV protective swimwear for kids to the Sharks in episode 518 on January 24. Betsy survived skin cancer at age 26 which made her re-evaluate her corporate career and focus on developing UV protective clothing as her life's work. She wanted to make a product that helps people and when she realized what a pain it was to put kids swim shirts on and off, she had the seed of a business.
SwimZip swimwear features zippered shirt fronts, chlorine resistant fabrics, and fun & funky designs that kids love. Parents like the fact SwimZip has the highest UV protection. Betsy doesn't want her kids, or anyone else's, to suffer her fate, so she makes sure her products are the highest quality. She's so dedicated to her business, it's more of a higher calling.
They has a complete line of swimwear for sale on Amazon and on their website. She's likely looking for a Shark investment to aid in getting into retail chains.
SwimZip Shark Tank Recap
Betsy and Berry come into the Shark Tank asking for an investment of $60,000 in return for 5% of their company, Swim Zip. As a skin cancer survivor, Betsy understands the dangers of overexposure to UV rays. She set out to create swimwear that protects children from the early sunburns that can put children at risk for skin cancer later on.
Betsy explains that the protective swimwear blocks 98% of harmful rays, and the designs are simple to put on and take off, with a full length zipper up the front, so kids can dress and undress themselves, reducing drama at the pool or beach.
Kevin O'Leary gets right to the point, asking for sales numbers. Betsy explains that they sold $225,000 in the past year, an increase of over 1100% over the $18,000 they'd made the year before. They're selling mostly through independent retailers, both in the US and internationally. Profits in the past year were $100,000, but neither Betsy nor Berry took a salary.
Mark Cuban wants to know if there's anything unique in the material. Betsy replies that no, it's basic swimsuit material. Berry explains that the designs are unique, as well as their wholesale price point, which is $15, as opposed to their competitors which sell at $45-60 wholesale.
Who's In?
Kevin O'Leary challenges the valuation of the company. He tells the pair, "I see my money as gasoline fuel. I pour in my money, and I make more money. I don't see anything here I can pour my money into. I'm out."
Daymond John tells them that they "don't want to" do a test run in the Target stores, because a big return can destroy their profits. He feels it's too early for him to invest in the company and he goes out, triggering a rant from Betsy about her story as a survivor, saying that she's a "mommy on a mission."
Robert Herjavec doesn't know how to build the business from boutiques to "million dollar business." He's out. Mark Cuban calls their company a "family business," telling them they're not large enough yet to invest in. He's out.
Lori Greiner sees herself in Betsy, telling her she was a "one man band" for five years. She believes in the company, and in Betsy, and makes an offer of $60,000, in return for 20%. Betsy counters, and asks if Lori will up her offer to $120,000 for 20%. Lori refuses to budge. Berry is hesitant but they accept the offer and land a Shark deal.
SwimZip Shark Tank Update
Lori's faith seems well placed. Within two days of appearing on Shark Tank, the sales had nearly reached the numbers of the previous year. The vision and passion Betsy brought to the Shark Tank remains strong as well. Their social media pages feature complementary brands and products, and Betsy serves as a member of the Youth Entrepreneurs Kansas City Advisory Council, giving back to the organization which buoyed her own interest in entrepreneurship as a high school student.
Lori took a chance, jumping into the deep end with these sibling entrepreneurs, and made a big splash with Swim Zip. Unfortunately, the deal never closed. As of April, 2023, they are still in business with $5 million in annual revenue. They added men's and women's apparel and hats to the line too.
Posts About SwimZip on Shark Tank Blog
UV Protective Swimwear – Swim Zip
SwimZip Information