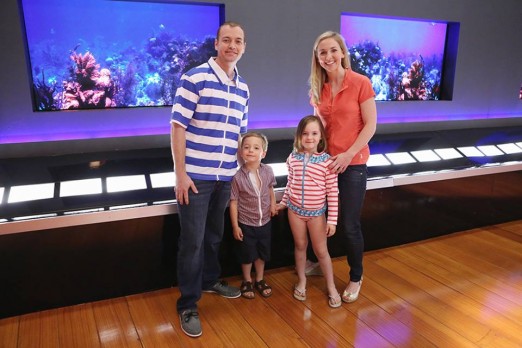 UV Protective swimwear isn't a new thing, but entrepreneur and skin cancer survivor Betsy Johnson, her brother, Berry Wanless, and their kids want to show the Sharks their spin on this type of apparel in episode 518 on January 24. At the tender, young age of 26, Betsy found out she had skin cancer. She re-evaluated her life and decided she wanted to create a business that would truly help people.
Since kids like the beach and the water, she thought UV protective swimwear would be a good business. Rather than make just another water shirt, Johnson made Swim Zip stylish and easy to remove – hence the zippered fronts. These aren't cheapo fabric beach clothes, Johnson is a stickler for quality. Her goal is to put out the best quality product that keeps the harmful rays of the sun from damaging kids' gentle skin. She wants her product to be the best in the UV protective swimwear space.
My Take on UV Protective Swimwear
My family practically lives at the beach all summer long; we're out in the sun a lot. I am a dark-skinned, Italian guy – the sun doesn't burn me like it does my fair-skinned wife and a few of our kids. Even so, I still cover up – albeit not as much as the others.
We own some UV protective swimwear and sun shirts, but not the Swim Zip brand. They are an important part of our beach attire because nobody wants to get crisped in the sun. Given the choice between wearing a beach shirt and slathering up with sun tan lotion, I'd got for the shirt 90% of the time. I definitely see the benefit of a zippered front since removing a wet shirt can be a pain for both kids and adults.
Do Sharks swim with SwimZip?
Despite all the health and safety benefits, Swim Zip is still a branding play. It reminds me of the RuffleButts pitch earlier this season, but the Swim Zip brand isn't as mature. I think Daymond would be the obvious Shark partner, but he can't fund every clothing line that comes into the Shark Tank. Lori might bite, but I don't think Mr. Wonderful, Robert or Mark will.
Johnson is going to need incredible numbers to get a deal. A bit of entrepreneurial savvy could go a long way, too. I just don't see this being proprietary enough for the Sharks to get involved.