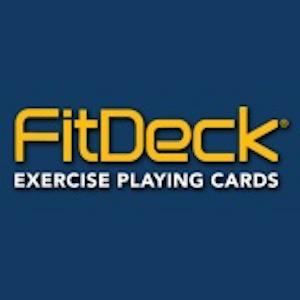 Phil Black brings his exercise playing cards to the Shark Tank in episode 518 on January 24. Mr. Black has quite an impressive background: Yale undergrad, Harvard MBA, Navy Seal, Firefighter, Investment Banker, Certified Personal Trainer, Motivational Speaker, and entrepreneur. He may not be a Shark, but he could probably whip a real shark's butt!
Phil Black, the entrepreneur, drew on his varied background with Fit Deck. He mixed card games he played in college with Navy Seal training and personal trainer physiologic knowledge to create over 40 decks of exercise playing cards. Each deck of cards is geared toward either a special fitness goal (pre-natal, weight loss, muscle gain etc) or team sport. There are age and gender based decks too. Each deck also contains nutrition related cards as well. The idea is to shuffle the cards to get a varied workout each time.
Fit Deck stacks the deck in favor of its customers with an extensive set of training videos on the website. The highlight reels section teaches some of the different exercises for each deck. There's a "how to" section to teach people how to get started, and a tutorials section that has live examples of each exercise for a particular deck. You can even download a "deck" of cards to an iPhone. These exercise playing cards are definitely playing with a full deck!
My Take on Exercise Playing Cards
Fitness fads come and go, but I think Fit Deck is on to something. Anything that keeps working out fresh and new each time is better than the same old routine. Black's exercise playing cards makes exercise fun and he backs up his product with a lot of back-end support.
The timing of Fit Deck's appearance on Shark Tank is perfect. More fitness/weight loss/exercise products are sold in January and February than any other month – everyone's still thinking of those holiday pounds and New Year's resolutions. If Black does well, he'll sell a lot of cards from his website and Amazon.
Are there Card Sharks in the Tank?
Phil Black might have the best resume of any Shark Tank "contestant" ever, but it remains to be seen if that translates to an investment. I don't think the Sharks will try to trip him up, they'll realize how smart he is and play nice. It doesn't hurt that he's a Navy Seal either; THOSE seals are not Shark bait!
The Sharks may be impressed with Black, but he'll need much more than a resume to get an investment. I'd hate to see a Shark tell him he's not focused enough to run a business. It's going to come down to the deal. Black has a lot of skin in the game with Fit Decks, but there isn't a lot of debt. The only thing a Shark can do to help him is get him exposure and maybe some different distribution channels.
Lori might bite if she thinks it's a good fit for QVC; exercises are easily demonstrated on TV. I can already hear Mr. Wonderful's puns about stacking the deck, not playing with a full deck, etc, but I don't think he's a player on this one. Mark might want to partner with him just because Black isn't the type of guy he'd have to baby sit. Daymond has other fitness interests, so I think he'll bow out graciously. Robert is a crap shoot on this.
I am not sure if Black leaves with a deal for his exercise playing cards, but appearing on Shark Tank stacks the deck in any business's favor.