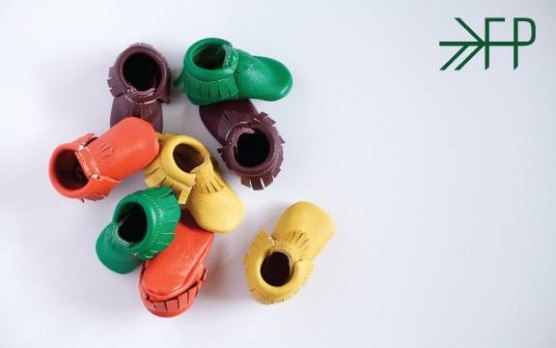 Susan Petersen started Freshly Picked, her baby moccasins business, on a shoestring – or should I say a moccasin string. The first prototype baby moccasins were stitched together from scraps of leather she got for next to nothing and she funded the start-up with $200 she earned from selling scrap aluminum from discarded window frames from her brother's replacement window business. Peterson is the prototypical frugal start-up entrepreneur and the PR teaser for her episode claims Mark Cuban says it's the best story he's ever heard.
Freshly Picked baby moccasins, the actual product being pitched, might take a back seat to such a story, but they're a hit unto themselves. Now in the sixth generation of style, they're a far cry from the scraps of leather Peterson sewed together back in 2009. Freshly Picked is now a nearly mature brand, embraced by celebrities (if you call the Khardashians celebrities) and with legions of fans on Facebook and Twitter. The baby moccasins business is doing well and a Shark Tank appearance ought to send the Freshly Picked website servers into high gear.
Peterson set out to make baby shoes that were comfortable, colorful, and, as she likes to say "most importantly, they'll stay on your child's feet." Babies have a way of wriggling out of their shoes, not so with Freshly Picked moccasins; no more looking around for the shoe that fell off.
Peterson embraces her humble business roots. She has a good story and, after finding success, she wants to give back. She offers a "Freshly Picked Dream Scholarship" for business start-ups on her website. The scholarship winner gets $4,000 (20 times what she started with) and six hours of consulting to get their business going. Any entrepreneur with a "pay-it-forward" attitude like hers is sure to find both fans and customers.
My Take on Baby Moccasins
As a father of five, I've seen more baby shoes styles than Freshly Picked has in their portfolio. Baby Shoe sales are part of a $6 Billion per year ONLINE business, and that doesn't even include retail. People will always buy baby shoes, as long as there are babies. My kids were too big for Freshly Picked when Peterson made her first pair, but I bet somebody would have picked up a pair for them if they were around between 1996 and 2004!
Let's face it, when any baby product can strike a chord with mommies, it's going to be a hit. Freshly Picked has a lot of good press going into its Shark Tank appearance and the 16 million eyeballs that watch Peterson's story will exponentially add to the hype. Whether Peterson gets a deal or not, her story will resonate and the online shopping cart will be stuffed with baby moccasins.
Do Sharks Let the Other Moccasin Drop?
Based on the pre-show hype for Peterson and after reading Peterson's story, I think the Sharks are going to like her. She may not be a Shark, but she's certainly tenacious enough to be one. Any baby product on Shark Tank faces scrutiny; there are lots of good ideas the come into the Tank, but the ones that have either proof of concept or good sales are the ones that succeed. Freshly Picked is one of those businesses that is right in the crosshairs for a Shark investment to bring it to the next level.
Whether Cuban's accolades for her story result in an investment remains to be seen, but Peterson does sound like his type of entrepreneur. Daymond could be of assistance with his many retail connections. Lori could sell a crapload of baby moccasins on QVC, too. Even Robert and Mr. Wonderful could take a bite if the numbers are good.
The Freshly Picked website got a big "I'm gonna be on Shark Tank" make-over recently. It has the look of someone who expects success. Freshly Picked is a business that wins with or without an investment, but I think Peterson will have more than one offer. The real question is can Sharks wear moccasins?