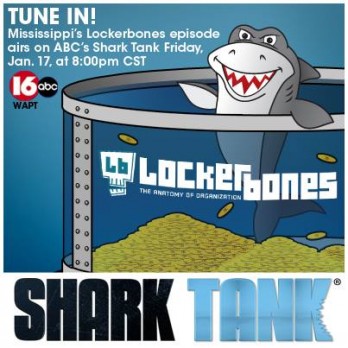 When Greg Cronin's daughter, Ashley, got to middle school, she didn't know how to keep her locker neat, so he invented a locker organizer for her. With some plywood and a few cuts with a circular saw, he built a prototype shelf system to fit inside school lockers. Cronin tinkered and perfected the idea over the course of two years until he had an easy to assemble locker organizer even a middle school kid could put together. The concept is a lot like a closet organizer/shelf system in miniature. The kids at Ashley's school loved the idea and now they have a business!
You can buy Locker Bones directly from their website and Amazon. Cronin also has a system set up to sell them through schools as a fundraiser. Just order on the Locker Bones website, enter a school code, and the school gets a portion of the sales. Locker Bones will ship their locker organizers directly to schools that set up this arrangement. As of show time, there are 10 schools signed up for this service.
My Take on The Locker Organizer
With five kids, I KNOW about lockers. We have six school lockers in our kitchen (I have a friend in the locker biz)! I can't tell you how many times my girls re-organized and decorated their lockers over the years – it's like they're an extension of their rooms. One of my girls got a chandelier for her locker for her birthday.
Kids will want these, and, by extension, parents will buy them. Locker Bones could become the next school status symbol. To be fair, it's a functional item. Most school lockers have one shelf for a small cubby and a vast open space to accommodate coats; creating additional storage from that space makes a lot of sense. When you factor in the fundraising aspect, I think Cronin has a winner.
Do Sharks Want Meat on the Locker Bones?
I think the Sharks will like the idea. Cronin's challenge is convincing them it's a business. From the looks of things, Locker Bones is still a small operation, but they're at the stage where they have proof of concept: the kids love it and the parents are buying it.
The key to getting a Shark investment is how scalable they can make the business. If the Cronins can demonstrate they can take this to a national scale, they'll field multiple offers. Mass manufacturing is the big challenge; this isn't a business that can survive in a garage for long if it wants to grow. They either need to set up an efficient shop with some serious equipment or outsource manufacturing to get volume up.
The other key to growth is getting schools and PTA's to buy in. With different locker sizes at each school, they need to make a lot for one school to make the business viable, otherwise it's just another custom product. There are other locker organizers on the market, but none of them look as sturdy or well-built as Locker Bones. The Cronins need to sell, sell, sell to get their product to schools; they also need big box distribution.
If the Cronins hit on all these points, they'll leave with a deal. If they don't, they'll leave nothing but bones for the Sharks.