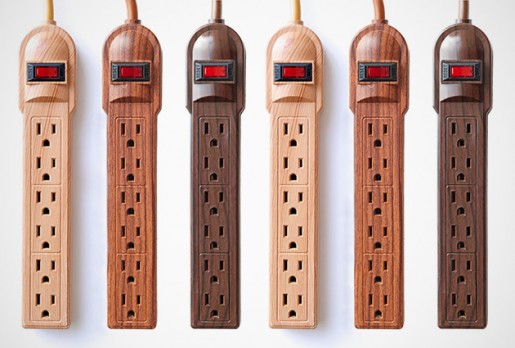 Michael Barzman and Bryan O'Connell pitch their wood power strips, called Invisiplug, in Shark Tank episode 514 on January 17. Power strips, or surge protectors, are common in most homes and offices. The unfortunate thing is they're ugly. Most power strips are white or metallic grey and clash with any decor. That's why O'Connell and Barzman invented wood power strips.
The Invisiplug isn't real wood, it's wood grain plastic, but it looks a heck of a lot nicer than the standard power strips most people have. There are standard and deluxe versions and they come in three colors: Light Natural, Medium Cherry and Dark Oak, so they'll blend in with (or complement) most wood floors. It's an honest to God power strip; each Invisiplug has a 3-foot color-matched cord, 450 Joules Protection, an On/Off power switch and an 15 AMP Circuit Breaker. They're priced comparably to ugly power strips, so consumers won't get set back extra cash for having stylish surge protectors.
Invisiplug made its debut on Lowes.com back in May 2013. It's also available on Amazon.
My Take on Wood Power Strips
I have four power strips in service in my home. 2 for computers, 1 for a fish tank and one in my bedroom because the plug is right behind the bed. 3 of mine are white, one is metallic grey, all 4 are patently unattractive. None of the power strips are visible, so wood power strips wouldn't make much of a fashion statement in my case.
If I had the choice between wood power strips and regular power strips the next time I went to buy one, I'd probably go for the wood power strips. They're the same price, so why not get something that looks a little better? I won't rush out to get an InvisiPlug, but I'd definitely grab one the next time I need a new power strip.
Do the Sharks See the Power of Wood?
InvisiPlug already has an online sales presence, but the sales figures are what will interest the Sharks. This is such a ubiquitous product, it could start a bidding war, but the commonality of power strips could work against Invisiplug. There may be objections; I can hear Mr. Wonderful asking "why don't I just get a mold, some wood-grained palstic, and make Mr. Wonderfuls Wood Power Strips?"
I don't think this is Barbara's type of product or business, so I think she's out. Lori will think there are too many options currently available – she likes unique products – so she'll be out, too. Robert, Mark, and Kevin might bid, but the InvisiPlug guys better have some sales and a good valuation, or they'll be out. While I think it's a great idea, and the guys will sell a ton of Invisiplugs, I don't think the Sharks bite on this one.