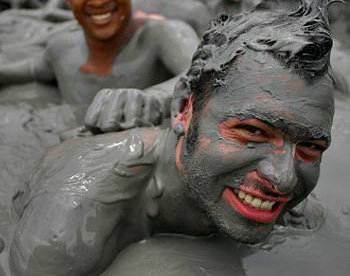 Lauren Padawer wasn't looking to get into the mud mask business when she first "discovered" the mud that would become the raw materials for the Alaska Glacial Mud Company, she was just trying to clean up after a camping trip. Padawer is the latest "greentrepreneur" to enter the Shark Tank; she pitches her business in episode 514 on January 17.
Originally from St. Louis, Lauren made the wide open spaces of Alaska her home shortly before the turn of the millennium. She's an avid outdoorswoman and was repairing fishing nets and making jewelry in the Copper River Delta, about 150 miles south of Anchorage when she made her fated discovery. She wanted to wash up in the glacial pools and ended up getting the mineral rich mud on her. She found it made an excellent scrub and mud mask and it met her standards for sustainability as a product.
Harvesting a Mud Mask
The Copper River Delta is the size of West Virginia and has the best mud on earth: it's mineral rich and over 20 glaciers deposit 100 million tons of glacial silt in the Delta every year. Padawer started by hauling buckets of the mud to her home and packing it into jars. It takes 50 buckets, about 2500 pounds, to fill 5,000, 2 1/2-ounce jars. The mud is dried and has natural botanicals, such as chamomile, horse-tail, elder flower, nettle, seaweed extract and kelp added to it before packing.
Alaska Glacial Mud sells its mud mask online, on Amazon, on Alaskan Cruise Ships, and in specialty boutiques across the globe. The all natural mud mask fills a niche in an enormous market for beauty products featuring natural and organic ingredients. Additionally, 10% of all sales go to Copper River Delta conservation groups.
My Take on Alaskan Mud
I don't use a lot of cosmetics. The last time I had any kind of mud mask was when the Nardos gave me some of their Fourever Young Facial Mask. I'm not sure what the ingredients of their product is, but it aint an Alaskan Copper River Delta mud mask! It did feel good and I'll bet a good scrub with some Alaskan mud feels nice.
Do the Sharks Play in the Mud?
Natural skin care products fared well in the Shark Tank in the past. The aforementioned Nardo brothers grew their business since getting an investment from Barbara in season three and Lani Lazarri blew up sales for her natural sugar scrubs after doing a deal with Mark in season four. Will Lauren's Alaskan mud mask have similar luck?
I have to think Mark and Barbara sit on the sidelines on this one, lest they compete with their own businesses, but they may make an offer if the deal is right. Mr. Wonderful will want a piece or every jar sold for his part, but he will offer. I think Robert will be on the fence – getting him to invest will require good numbers and a strong pitch from Lauren. Lori could sell a ton of mud mask jars on QVC if she likes the product, so she should be a player.
As for me, I am "IN," but it sounds like a great product I'd never use; maybe I'll get some for my wife.