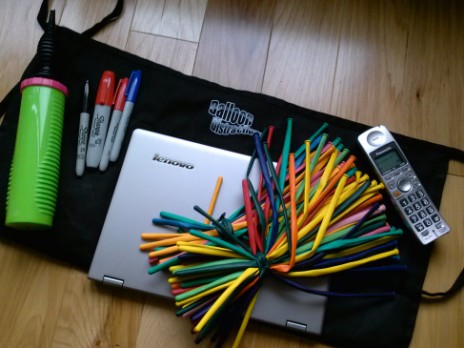 Ben Alexander enters the Shark Tank in episode 514 on January 17 with his balloon business opportunity called Balloon Distractions. On the surface, Balloon Distractions looks like an entertainment company, but it's much more than that. Alexander started "twisting" balloons while still in college in 1997 and officially started his business in 2003 as a "balloon artist" performing in a local restaurant. He kept patrons entertained while they waited for their food. Over the years, he grew his balloon business into a full-time (and profitable) venture.
As Ben expanded his business by booking more restaurants as regular customers, he realized he couldn't expand without people. Even though he's twisted in over 30 states and in a few foreign countries, there's only so many places one man can go. Balloon Distractions sells "a few minutes of distraction" to people waiting for food in a restaurant. They also do fairs, festivals, parties, and corporate events. In order to do this, Ben needed a way to expand.
Balloon Business: A Twisted Opportunity
Alexander found a way to leverage his idea and allow people to start their own "twisted balloon business." He prides himself in providing people an opportunity to build a region by marketing the Balloon Distractions concept in their area and managing a group of balloon artists. All you need to start in the business is an apron, a balloon pump, some balloons, a computer, a phone, and transportation. You'll also need to commit to learning the business, from twisting balloons to sales and marketing to hiring to performing.
In a way, Balloon Distractions and their regional business partners are more like a talent agency, but they also train the talent. There is a vetting process to become a regional twister. To get into the balloon business through the Balloon Distractions Regional Partner Orientation program, you need to be an outgoing type who isn't afraid of approaching and speaking to people in a public place, committed to building a business, unafraid of rejection, you have to like kids, and you need to be able to laugh out loud – a lot!
Balloon Distractions can help their regional partners get up and running quickly. There is a week or two of initial training, including how to twist balloons into anything from a replica of the USS Enterprise to a dress to my favorite, the "Hovering Eyeball of Death." They have national contracts with restaurant chains like IHOP, Chili's, and Applebee's and the home office handles the bookings and paperwork. They're in about 40 markets now, but the company goal is to have over 130 additional regions open up in the next year or two.
Partners in the balloon business have independent contractor status and get paid on a percentage of total bookings every other week. There are regional partners making in excess of $100,000 a year. Mr. Alexander doesn't claim you can get rich overnight with his balloon business, but if you're outgoing, smart, fun and willing to work hard, you can make a nice living.
My Take on Balloon Distractions
I think this concept is great. Who doesn't love a little entertainment? If you have kids, a balloon twister while waiting for food in a restaurant is a virtual Godsend – anything to keep the little guys happy! The way I see it, any time you have the opportunity to inject a little fun into anything, you might as well go for it. That's how Balloon Distractions views the core of its business: have fun, help others have fun, and you'll succeed.
The balloon business opportunity is a great idea, too. The hours are as flexible as you want and it has a low-cost entry point. 15 or 20 years ago, I would have jumped at an opportunity like this.
Do Sharks get Twisted?
This should be a fun pitch. All the Sharks will have balloons on their heads and there will be a lot of laughs. I don't think Balloon Distractions gets an investment, though. Mr. Wonderful will object to the low cost of entry and claim people won't be invested in being a Regional Partner; plus he won't be able to squeeze a royalty out of each balloon animal made! Lori can't sell it on QVC, so she'll say "I love it, but I'm out." Robert generally doesn't go for franchise-like concepts, so a biz-op won't excite him. Ditto for Mark. Daymond is the only real option but, even though he likes event based businesses, he'll pass on Balloon Distractions.
Another thing that makes me think there's no deal here is The Balloon Distractions website. It doesn't have that "Shark Tank feel" to it, and they recently re-vamped it. I hope it holds up under the mass of traffic they're going to get on the 17th. There will be a lot of people interested in both the balloon business opportunity and in booking an artist. The website even has a pre-emptive disclaimer:
Our appearance on national TV has overwhelmed us with event inquiries.

Balloon Distractions currently operates in a limited number of markets across the United States. We can only book restaurant and private events in markets where we already have an established team. Also, we need at least 7 days notice before we can schedule an artist.
The Sharks will be out, but I am IN. I am sure Balloon Distractions will field thousands of inquires after airing and they'll hit their expansion goals.